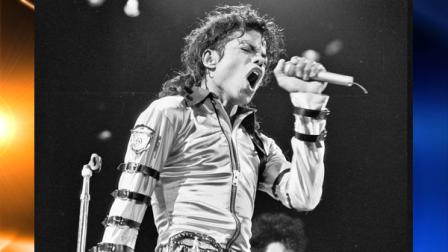 .
.
Gary plans King of Pop birthday tribute

Wednesday, August 25, 2010
Miércoles, 25 de Agosto de 2010 10:19
August 25, 2010 (GARY, Ind.) (WLS) — A birthday fit for a king! Michael Jackson's native Gary, Ind. will hold a tribute outside the pop star's boyhood home Saturday.

Jackson, who died last year after overdosing on sedatives, would have turned 52 on Sunday.

He grew up in Gary, Ind. before he and his family struck it big as the Jackson 5. His family moved to Los Angeles in 1969.

Jackson's mother, Katherine, will be in attendance at a tree planting outside the family's home at 2 p.m., according to a press release. She also particpated in an event marking the one-year anniversary of her son's death in Gary, Ind.

August 26-29 also marks the first MJFanvention, www.mjfanvention.com , which will be held the Radisson Hotel and Star Plaza Theatre in Merrillville, Ind. Members of Jackson's family are expected to attend the four-day event. Tickets start at $78 and packages range into $2,000.

Jackson's niece and first cousin will be performing.

A dos meses del primer aniversario del fallecimiento del "Rey del Pop", Michel Jackson, su ciudad natal Indiana, planea brindar un homenaje de nuevo a su memoria.

Mediante un comunicado por parte del ayuntamiento de la localidad, se conoció que se rendirá un homenaje a Jackson en frente a la casa donde vivió su infancia, actividad que se llevará a cabo el próximo sábado 28 de agosto, justo un día ante de lo que hubiese sido su cumpleaños número 52.

"La ciudad honra la memoria de Jackson como una persona maravillosa, generosa y como el artista más grande del mundo", expresó el  alcalde de Gary (Indiana), Rudy Clay, lugar de donde la familia Jackson se mudó cuando los Jackson 5 saltaron a la fama en 1969.

El evento contará con las presentaciones de algunos artistas locales, imitadores y fanáticos del hoy fallecido Rey del Pop,
.
.
Fuentes/Sources
.
Read more here / Leer más aquí:
.
.
The International King of Pop Fanvention
.
Otra nota:
.
Linda McHard, of Iowa City, Iowa, Leigh Messinger, of Linden, N.J., and Sharleen Williams, of Charlotte, N.C., participate in a lyrics contest at the Michael Jackson MJ Fanvention meet and greet at the Radisson Hotel at Star Plaza in Merrillville. Nicole Brown from JacksonLegacy.net reads, but does not sing, lyrics to Michael Jackson songs as the contestants have to guess the song.
.
| | |
| --- | --- |
| Fans remember Michael as 'best entertainer in world' | Los admiradores recuerdan a Michael como "mejor artista en el mundo" |
| By Lu Ann Franklin Times Correspondent nwi.com | Por Lu Ann Franklin corresponsal del Times | nwi.com |
| Posted: Saturday, August 28, 2010 12:00 am | Publicado: Sábado, 28 de agosto 2010 12:00a.m. |
| MERRILLVILLE | About two dozen Michael Jackson devotees from the area and around the nation celebrated the legacy of the King of Pop and the Jackson family at Friday afternoon's MJ Fanvention fan club meet and greet. | Merrillville | Cerca de dos docenas de devotos de Michael Jackson de la zona y en todo el país celebran el legado del Rey del Pop y la familia Jackson en la tarde del viernes en la MJ Fanvention reunión de clubs |
| The gathering was hosted by the Jackson Legacy Fan Club based in St. Louis, Mo., and was one of seven events slated for the "Rock With You" day at the MJ Fanvention going on through Sunday at the Radisson Hotel at Star Plaza and the Star Plaza Theatre. | La reunión fue organizada por el Jackson Legacy Fan Club con sede en St. Louis, Missouri, y fue uno de los siete eventos programados para el día "Rock With You"  día en el que la MJ Fanvention irá hasta el domingo en el Hotel Radisson de Star Plaza y en el Star Plaza Theatre. |
| Fan club founders Nikky Brown, of Greenbelt, Md., and St. Louis residents Lisa Walker and Shauntay Bartlett organized the meet and greet at the hotel. | Las Fundadores del club de fans Nikky Brown, de Greenbelt, Maryland, y los residentes de San Luis, Lisa Walker y Shauntay Bartlett organizaron la reunión en el hotel. |
| "We're here to get some fans together for some fellowship with each other and to have fun," Walker said. | "Estamos aquí para tener a algunos fans juntos en comunión unos con otros y para divertirse", dijo Walker. |
| The Jackson Legacy Club began in January when the three women met on the Internet. | El Jackson Legacy Club comenzó en enero, cuando las tres mujeres se reunieron en Internet. |
| "Each one of us wanted to do this fan club, so we decided to do it together," Brown said. | "Cada uno de nosotros quería hacer este club de fans, así que decidimos hacerlo juntas", dijo Brown. |
| "We celebrate and promote the entire Jackson family – Janet, LaToya, Jermaine, Tito and the next generation of Jacksons who are in the entertainment business – and publish only positive stories about the Jacksons on our website, www.jacksonlegacy.net," she said. | "Celebramos y promovemos a toda la familia Jackson – Janet, LaToya, Jermaine, Tito y la próxima generación de Jackson que están en el negocio del entretenimiento – y sólo publicamos historias positivas acerca de los Jacksons en nuestro sitio web, www.jacksonlegacy.net," dijo. |
| "There are lots of these clubs in Europe, but not a lot of fan clubs like ours in the U.S. that cater to fans of the whole Jackson family," Walker said. | "Hay muchos de estos clubes en Europa, pero no muchos clubes de fans como el nuestro en los EE.UU. Que acojen a los fans de toda la familia Jackson", dijo Walker. |
| The fan club now has 1,000 members, she said. "Our members come from all over the U.S. and every continent. We even have a member in Iceland." | El club de fans ahora tiene 1.000 miembros, dijo. "Nuestros miembros provienen de todo EE.UU. y de todos los continentes. Incluso tenemos un miembro en Islandia." |
| Debra Newberg, of Texarkana, Ark., talked about her new book, "America in the Mirror: Reflections and Corrections on Michael Jackson." Released on June 25, the book is "a call for change to make a better life for our children," Newberg said. | Debra Newberg, de Texarkana, Arkansas, habló de su nuevo libro, "América en el espejo: Reflexiones y correcciones sobre Michael Jackson." Estrenada el 25 de junio, el libro es "una convocatoria de cambio para hacer una vida mejor para nuestros hijos", dijo Newberg. |
| After 30 years as a day care center operator, the author felt compelled to write the book to dispel "the myths and lies about Joe Jackson being abusive and Kathryn Jackson's comments on children – that they must fear their parents." | Después de 30 años como operador de centro de día de atención, el autor se sintió obligado a escribir el libro para disipar "los mitos y mentiras acerca de que Joe Jackson fuera abusivo y Kathryn Jackson (sic) comenta sobre los hijos – que tienen que temer a sus padres". |
| Newberg said the book is also a journey for her and allows her to express her opinions about how Michael Jackson was treated, especially in connection with his 2005 trial on child molestation charges. | Newberg dijo que el libro es también es un viaje para ella y le permite expresar sus opiniones acerca de cómo Michael Jackson fue tratado, especialmente en relación al año 2005 en el juicio por cargos de abuso de menores. |
| "When someone has a good heart, you can see it," she said. | "Cuando alguien tiene un buen corazón, se puede ver", dijo. |
| The book's cover illustration depicts an intact American flag with a different reflection in the mirror behind it. A tattered American flag is pictured with flames in the background. | La ilustración de la portada del libro representa una bandera de Estados Unidos intacta con una reflexión diferente en el espejo detrás de ella. Una bandera estadounidense hecha jirones que se representa con llamas en el fondo. |
| "That's how America sees itself," Newberg said, pointing to the pristine flag. "But that's how America really is now," as she pressed her fingernail to the mirrored image. | "Así es como los Estados Unidos se ve", dijo Newberg, apuntando a la bandera prístina. "Pero así es como Estados Unidos realmente está ahora", y ella señala con la uña la imagen reflejada. |
| "We need to make some changes in this country," she said. "When America changes, the whole world changes." | "Tenemos que hacer algunos cambios en este país", dijo. "Cuando Estados Unidos cambie, el mundo entero cambiará". |
| Other changes are needed, especially in the way Michael Jackson's legacy is perceived, said Aretha and Jeff Green, of Springfield, Ohio. | Otros cambios son necesarios, especialmente en la manera en como se percibe el legado de Michael Jackson, dijo Jeff Green y Aretha, de Springfield, Ohio. |
| "People need to listen to the words of Michael's songs," Aretha Green said. | "La gente necesita escuchar las palabras de las canciones de Michael", dijo Aretha Green. |
| "He was the best entertainer in the world. … He loved peace. He loved his children. His kids were his life." | "Era el mejor artista del mundo. … Él amaba la paz. Él amaba a sus hijos. Sus hijos eran su vida". |
.
Fuente/Source:
.
.
URL corta de esta entrada:
.
.
Read More
.
.
| | |
| --- | --- |
| New  Twitterthon August 29, 2010 | Nuevo Twitterthon 29 de agosto, 2010 |
| @tajjackson3 invites us to send messages using the tag #MessageToMJ with stories about how Michael Jacks …on changed your life, memories, or messages to Michael. | @tajjackson3 nos invita a enviar mensajes usando el tag (Palabra clave) #MessageToMJ con historias sobre como cambió tu vida Michael Jackson, memorias, o mensajes a Michael. |
.
***********
.
#MessageToMJ

Wednesday, August 25, 2010 at 4:08PM
Miércoles, 25 de agosto 2010 a las 16:08

On August 29th, I will be tweeting some of my fondest memories of my uncle Michael.

El 29 de agosto, voy a estar tweeteando (Escribiendo tweets) algunos de mis mejores recuerdos de mi tío Michael.

Some tweets will be funny stories, others will be about how he both inspired and changed my life.

Algunos tweets serán historias divertidas, otras serán sobre cómo me ha inspirado y cambiado mi vida.

I need your help making "#MessageToMJ" a trending topic on Twitter on Aug 29th.

Necesito su ayuda para hacer de #MessageToMJ un tema de tendencia en Twitter el 29 de agosto.

Please tweet with your memories of MJ. Also make sure to use the hash(#)symbol followed by MessageToMJ so that we are all on the same page.

#MessageToMJ

Por favor, escribe Tweets con tus recuerdos de MJ. Asimismo, asegúrate de usar el símbolo (#) seguido por la frase MessageToMJ de esta manera todos estaremos en la misma página:

#MessageToMJ

Some quick examples.

Algunos ejemplos rápidos.

#MessageToMJ Thank You uncle Michael for always teaching me the importance of humility. I love you.

#MessageToMJ Gracias tío Michael porque siempre me enseñaste la importancia de la humildad. Te amo.

#MessageToMJ Thank You Michael for Smooth Criminal. It's still one of my favorite songs and videos.

#MessageToMJ Gracias Michael por Smooth Criminal. Sigue siendo una de mis canciones y videos favoritos.

Those are just off the top of my head. Don't forget to Include yours this sunday on Twitter.

Estas son sólo las primeras ideas en mi cabeza. No te olvides de incluir las tuyas este domingo en Twitter.

Together let's show the world how loved my uncle Michael is and will always be.

Juntos vamos a demostrarle al mundo cómo amábamos a mi tío Michael  y que así será siempre.

Thanks

Gracias

Taj

Taj
.
Fuente/Source
.
.
.
URL Corta de esta entrada:
.
.
Read More
.
This is a video of a Speed Painting of Michael Jackson, created by Shanna May, and the same Shanna May shared with me 🙂

(Thank you again!)

And she gave me permission to include in this blog.

Este es un video de una Speed Painting de Michael Jackson, creado por Shanna May que la misma Shanna May me compartió a mí 🙂

(¡Muchas gracias una vez más!)

Y ella me dio permiso de incluir en este blog.
.
.
Description/Descripción
.
| | |
| --- | --- |
| Michael Jackson Speed Painting of Michael in the thriller era painted by Shanna May. Completed in water-colour pencils and water. | Michael Jackson Speed Painting  (Pintura rápida o veloz) de Michael en la era Thriller pintado por Shanna May. Terminado en acuarela, lápiz y agua. |
Fuente/Source:
http://www.youtube.com/watch?v=4Pa_-wNlCxE
.
.
.
.
Read More
.
Mañana habrá un nuevo Twitterthon (Maratón de tweets) en honor a Michael. Como prometí avisarles, aquí está  🙂
.
Esta es la invitación:
.
August 25 – SHOW THE WORLD – THE MAN MICHAEL WAS!

25 de agosto – MUESTRA AL MUNDO  EL HOMBRE QUE MICHAEL FUE!

Now, is the time to bring all michael's fans together – united to tell the real story of Michael Jackson. Not the made up fictional character discussed in the media.
Ahora, es el momento para que los admiradores de Michael  unidos contemos la historia real de Michael Jackson. No la del personaje de ficción que fabricaron  los medios de comunicación.
On August 25th between 2pm and 5pm Eastern– Michael Fans from all over the GLOBE – will take over Twitter for a very Special Cause.

World Clock Set For Start Time –
Find Your Location and Mark Your Calendar

El 25 de Agosto entre 14:00-17:00 hora del Este, los admiradores de Michael de todo el mundo – se harán cargo de Twitter para una causa muy especial.
We will spread Michael's message of Love, we will tweet about his amazing generosity, his gifts and numerous charitable endeavors. #MichaelsLegacy is the Tweet of the day!
Vamos a difundir el mensaje de amor de Michael, estaremos enviando tweets sobre su generosidad, sus donaciones y sus numerosas obras de caridad. #MichaelsLegacy ¡Es el Tweet del día!
Please get your friends to join us on this important effort to defend and protect Michael's Legacy. You will be able to find suggested Tweets at MJ4JUSTICE.COM and Arrest Conrad Murray on Facebook.
Por favor, haz que tus amigos se unan a nosotros en este importante esfuerzo para defender y proteger el legado de Michael. Podrás encontrar tweets sugeridos en MJ4JUSTICE.COM y en Arrest Conrad Murray en Facebook.
Now, is the time to speak to truth to Power. Tell the world – about the man , Michael Jackson was.
Ahora, es el momento de hablar con el poder de la verdad. Díganle al mundo – sobre el hombre, que Michael Jackson fue.
His legacy is too important for us to give up now!! We may not be able to stop the numerous tabloids, the friends that have sold him out and betrayed him.
Su legado es demasiado importante para nosotros darnos por vencidos! Tal vez no seamos capaces de detener a los numerosos tabloides, o a los amigos que lo han vendido y lo traicionado.
But, we can Tell the world – who Michael Jackson was and We will fight to protect his legacy!
Pero, podemos decirle al mundo – quien fue Michael Jackson y luchar por proteger su legado!
Before, the criminal trial for Murray begins, it is our job to get Michael's message out to the world.
Antes, el juicio penal por Murray comienza, es nuestro trabajo para conseguir las páginas de Michael a salir al mundo.
Will you be there as we respect #michaelslegacy
¿Vas a estar allí como nosotros respetando el legado de Michael?  #michaelslegacy
.
Read more here (List of suggested Tweets) – Leer más aquí  (Lista de Tweets sugeridos en inglés):
http://www.mj4justice.com/august-25th—twitterthon.html
.
Otra invitación:
.
| | |
| --- | --- |
| Join us August 25 for the Twitter EVENT of ALL TIME! http://bit.ly/bBFjtP (((Please RT this around))) It's all for L.O.V.E. | Únete a nosotros en el evento de todos los tiempos el 25 de agosto en Twitter (Vínculo a los Tweets sugeridos en inglés) (((Por favor RT esto)))  Es todo por amor |
Fuente/Source
.
**********************************************
.
Recuerden que hice una traducción en la entrada que agrego a continuación… Aunque no he visto si agregaron más frases sugeridas… :S  Pero al final, son eso: Frases sugeridas sobre hechos de caridad, premios, reconocimientos, canciones de Michael, etc.  Puede ser en español, o puede ser que copien las frase en inglés. Como ustedes quieran. Lo importante es que agreguen la palabra clave #MichaelsLegacy
.
Aquí la entrada del mes anterior, en donde pueden leerlas:
.
.
Yo supongo, que este será un evento de cada día 25… Supongo. El hecho es que está confirmado para mañana 🙂  Digo… hoy ¡Ay! ya es 25, no había visto.
.
.
.
Read More