Más sobre Spike Lee en París y Londres en los estrenos exclusivos del documental BAD 25 == More on Spike Lee in Paris and London in the exclusive premiere of the documentary Bad 25
.
Después de la Premier del documental BAD25 que hizo Spike Lee sobre BAD (El álbum, la gira, los videos, etc.) de Michael Jackson en el Festival de Cine de Venecia; el pasado fin de semana se realizaron estrenos exclusivos (Con invitación) al que asistieron admiradores de Michael, en Paris, Francia y Londres, Inglaterra. En esta entrada hago traducciones de algunas de la información, opiniones y experiencias que estos admiradores nos compartieron 🙂
.
Esta entrada es una continuación de la entrada sobre el tema anterior, que ingresé aquí:
.
Spike Lee en París y Londres para los Estrenos Exclusivos de BAD 25. Revisiones de fans sobre BAD 25 == Spike Lee in Paris & London for BAD 25 Exclusive Premiere. Fan Reviews of Bad25
.
.
.
.
.
| | |
| --- | --- |
| Exclusive Iconic report for LMJ:  Michael Jackson Bad25 Documentary hits London! | Informe exclusivo de Iconic para LMJ: ¡El documental Michael Jackson Bad25 llega a Londres! |
| On behalf of Iconic Magazine and Legendary Michael Jackson, Pez Greaves (Editor in Chief of Iconic Magazine, in the photo with John Branca) attended the premiere in London. Here is his exclusive report: | Representando a la revista Iconic y a Legendary Michael Jackson, Pez Greaves (Editor en Jefe de la revista Iconic, en la foto con John Branca) asistió al estreno en Londres. He aquí su informe exclusivo: |
| Bad25 era is upon us! As we brace ourselves for the coming weeks of new music, flashy box-sets and the much anticipated Wembley Concert DVD; Spike Lee brought his Bad25 documentary to London for an exclusive screening. | ¡La era Bad25 está sobre nosotros! Conforme nos preparamos para las próximas semanas de nueva música, llamativos box set y el tan esperado DVD del concierto de Wembley, Spike Lee trajo su documental Bad25 a Londres para una proyección exclusiva. |
| Arriving at the Odeon Cinema, Leicester Square, 2 hours before fans were due to arrive we were greeted from a distance with the Bad25 logo, decorating the exterior of the cinema. As we approached, my friends and I realised we were the first fans to arrive. Despite the fact the cinema was currently closed until 1pm, we found one of the doors was a jar and walked in to the lobby. A larger than life size display of the Bad25 album cover was staring back at us…picture time! | Al llegar al Cine Odeon, en Leicester Square, 2 horas antes de los fans tuvieran que llegar, nos saludó desde lejos el logo de Bad25, decorando el exterior del cine. Cuando nos acercamos, mis amigos y yo nos dimos cuenta de que éramos los primeros admiradores en llegar. A pesar del hecho de que el cine estuvo cerrado hasta la 1 pm, encontramos que una de las puertas estaba abierta y entramos en el vestíbulo. Un exhibidor muy grande de la portada del álbum Bad25 estaba detrás de nosotros ¡Momento de una foto! |
| We queued outside as fans arrived in their droves. The queue was around the block and the atmosphere was anticipation mixed with excitement. Being first in the queue had its advantages and my friends and I took our seats, front row and centre. | Nosotros hicimos fila afuera conforme los fans llegaron en tropel. La fila daba vuelta a la manzana y el ambiente era de anticipación mezclada con emoción. Ser el primero en la fila tuvo sus ventajas y mis amigos y yo tomamos nuestros asientos de primera fila, y en el centro. |
| With the screen now full, the presenter from Capital FM radio appeared to introduce Spike Lee and John Branca to the stage. "Spike was given full access to the Michael Jackson archives" Branca told the crowd before Spike Lee personally introduced his masterpiece… | Con la pantalla completa ahora, el presentador de Capital FM radio, apareció para presentar a Spike Lee y John Branca en el escenario. "A Spike se le dio pleno acceso a los archivos de Michael Jackson", dijo Branca a la multitud antes de que Spike Lee personalmente presentara su obra maestra … |
| With out giving too much away for those who have yet to see it, here is just some of what you can expect from the BAD25 Documentary? | Sin lugar ir demasiado lejos para los que aún tienen que verlo, aquí hay un ejemplo sobre ¿Qué puede esperar del documental BAD25? |
| – Unseen footage of Michael in the Recording Studio recording Just Good Friends, Todo Me Amor Eres Tu and I Just Can't Stop Loving You. | – Metraje no visto de Michael en el Estudio de Grabación, grabando Just Good Friends, Todo Mi Amor Eres Tu y I Just Can't Stop Loving You. |
| – Behind the scenes footage of Michael on set of his short films | – Detrás de cámaras de Michael en el set de sus cortometrajes |
| – Michael rehearsing and choreographing routines for Bad and Smooth Criminal. | – Michael ensayando y coreografiando rutinas para Bad y Smooth Criminal. |
| – Information on the original album title, ideas, intentions and artwork. | – Información sobre el título del álbum original, ideas, intenciones y arte. |
| – Unseen pictures of Michael, Many of which show him smiling. | –  Fotografías no vistas de Michael, en muchas de las cuales él se muestra sonriendo. |
| – Michael behind the lens, filming studio sessions and Siedah singing Man In The Mirror | – Michael detrás de la lente, filmando sesiones de estudio y Siedah cantando Man in the Mirror |
| – Pro footage of 'Another Part Of Me' Live From Bad World Tour in Paris. | – Metraje Pro de "Another Part Of Me ' En directo del Bad World Tour en París. |
| – Man In The Mirror Live From Bad World Tour in Wembley. | – Man In The Mirror en directo del Bad World Tour en Wembley. |
| – An insight in to the creative process of Leave Me Alone short film | – Se profundiza en el proceso creativo del cortometraje para Leave Me Alone |
| – Bad Short Film – Alternative ending and deleted scenes. | – Cortometraje de Bad – final alternativo y escenas eliminadas. |
| – Interviews with celebrities including Mariah Carey, Kanye West, Justin Bieber and Sheryl Crow. | – Entrevistas con celebridades como Mariah Carey, Kanye West, Justin Bieber y Sheryl Crow. |
| – Interviews with collaborators including Siedah Garrett, Steve Stevens, Seth Riggs and Bruce Swedien. | – Entrevistas con colaboradores como Siedah Garrett, Steve Stevens, Seth Riggs y Bruce Swedien |
| An emotional segment of the documentary also covers Michael's passing, including the statement given by Jermaine Jackson at UCLA hospital on 25th June. | Un segmento emocional del documental también cubre la muerte de Michael, incluyendo la declaración rendida por Jermaine Jackson en el hospital UCLA el 25 de junio. |
| After 2 hours 10 minutes, the documentary draws to a close and plays out with Don't Be Messin' Around. Spike Lee and John Branca then returned to the stage for a Q&A session. Some answers revealed: | Después de 2 horas y 10 minutos, el documental llega a su fin y se toca Don't Be Messin' Around. Spike Lee y John Branca luego regresaron al escenario para una sesión de Preguntas y Respuestas. Algunas de las respuestas revelaron: |
| – The Estate would be happy for Spike Lee to make a documentary for 'Dangerous' | – La Herencia estaría feliz de que Spike Lee hiciera un documental sobre 'Dangerous' |
| – John Branca's favourite album is HIStory and he'd like the Estate to create a project on this. | – El álbum favorito de John Branca es HIStory y que a él le gustaría que la Herencia creara un proyecto sobre este. |
| – The Estate are looking in to a venue in which to give fans 'The Neverland Experience' as inquiries in to turn Neverland in to a 'Graceland' are not possible due to land laws. | – La Herencia está buscando un lugar que les de a los admiradores "La Experiencia Neverland' ya que consultaron convertir "Neverland" en un 'Graceland' y esto no es posible debido a las leyes sobre la tierra. (Permisos de uso de suelo) |
| – The Estate would like to release HIStory tour in 3D as they posses HD footage, but this is only something they'd like to do. | – A la Herencia le gustaría publicar la gira HIStory en 3D ya que poseen material de archivo HD, pero esto es sólo algo que les gustaría hacer. |
| – Both Spike Lee and John Branca agree/confirm a Michael Jackson Life Movie is not and will not be in the works. | – Tanto Spike Lee como John Branca están de acuerdo/confirman que una película sobre la vida de Michael Jackson no está y no está trabajándose. |
| Following the Q&A my friends and I posed for pictures with John Branca and shared with him Iconic Magazine Issue 8; he expressed his love for the cover! Spike Lee immediately approached us and asked if he could have a copy and told us it was a fantastic way to honor Michael and his legacy. | Tras la sesión de PyR mis amigos y yo posamos para las fotos con John Branca y compartimos con él la Iconic Magazine No. 8; él expresó ¡Que le encantó la portada! Spike Lee inmediatamente se nos acercó y preguntó si podía tener una copia y nos dijeron que era una fantástica manera de honrar a Michael y su legado. |
| Upon leaving the venue, we were each issued with a free double sided Bad25 promotional poster. Spike Lee and John Branca headed to a private function and the ensemble of fans headed outside to share their favourite moments of the documentary. One thing is certain, everyone was in agreement that this is the perfect addition to the Bad25 era and gives us a full working insight in to the Bad era from start to finish. | Al salir de la sala, nos dieron a cada uno un póster promocional de dos caras de Bad25. Spike Lee y John Branca se dirigieron a una función privada y en conjunto los admiradores nos dirigimos fuera para compartir sus momentos favoritos del documental. Una cosa es cierta, todos estaban de acuerdo en que este es el complemento perfecto para la Era Bad25 y nos da una visión completa del trabajo en la Era BAD desde el principio hasta el final. |
| I'd like to extend a personal thank you to Wesley and LMJ for assisting us in witnessing such a remarkable piece of Michael Jackson magic that will further strengthen his legacy. Your hard work is a credit to the fan community! | Me gustaría extender un agradecimiento personal a Wesley y LMJ por ayudarnos a presenciar una notable pieza de la magia de Michael Jackson que fortalecerá aún más su legado. ¡Su duro trabajo es un crédito a la comunidad de fans! |
| Pez Greaves | Pez Greaves |
.
Fuente/Source
.
.
*************
*************
.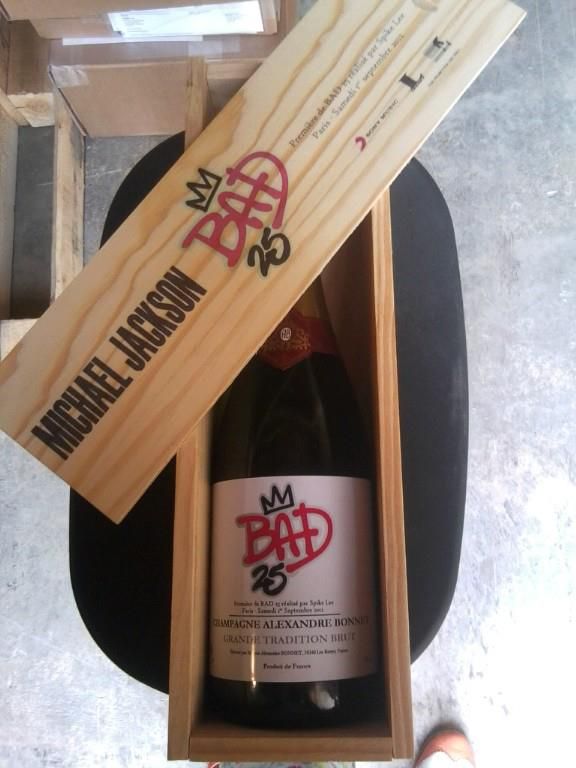 .
.
MA BOUTEILLE
MA BOUTEILLE
Champagne personnalisé Michael Jackson «Bad 25″
Champagne Personalizado "BAD 25" de Michael Jackson
Posted by blog-mabouteille| 5 septembre 2012
Publicado por blog-mabouteille
| 05 de septiembre 2012
Nous sommes fiers d'avoir réalisé pour Sony Music des bouteilles de champagne et sa caisse bois personnalisée pour la réédition de l'album « BAD 25″ de Michael Jackson !
¡Estamos orgullosos de haber realizado para Sony Music las botellas de champán personalizadas para la reedición del álbum "BAD 25" de Michael Jackson!
.
.
.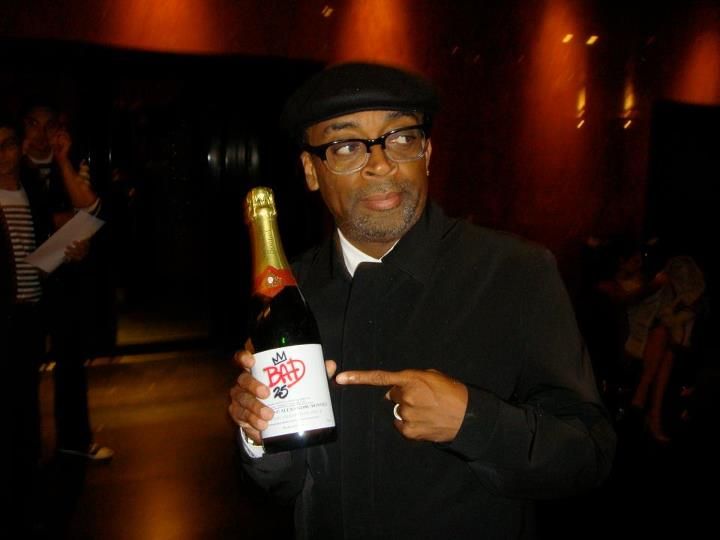 .
.
Fuente/source
.
.
Recopilación de información y traducción al español  realizada por Gisela F., para tributomj.com Se autoriza la reproducción de esta entrada en otros sitios,siempre y cuando se agregue 1) la (s) fuente (s) original (es) de la información 2) El vínculo a esta entrada de este blog. Todas las fuentes.  EXCEPCIONES: No autorizamos que nuestro trabajo (Investigación, recopilación, traducción, etc.) se reproduzca en sitios dedicados a temas de teorías conspirativas y todas sus ramificaciones, o sitios dedicados a "la falsa muerte" DE NINGUNA MANERA AUTORIZAMOS SE NOS INVOLUCRE O RELACIONE CON ESOS SITIOS ENGAÑOSOS (Def.).
.
URL corta de esta entrada
.
.