W Radio Colombia: Audio y transcripción de entrevista a Peter López, abogado de artistas musicales y ex representante de Michael Jackson == Audio and Transcript of Interview to Peter Lopez, lawyer of musical artists and former representative of Michael Jackson
.
Esta es una entrevista que Peter López concedió a la W Radio de Colombia el Julio 2 de 2009, para conversar sobre Michael Jackson, su estado de salud, sus proyectos; sobre el trabajo de Peter López con Michael. En esta entrevista nos cuenta cómo ocurrió lo de la venta de boletos para los 50 conciertos This is it en Londres.
.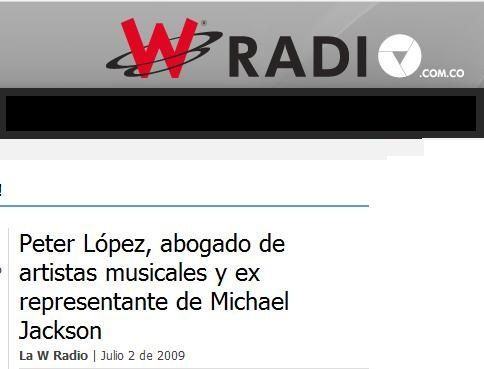 .
.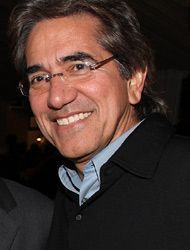 .
Interview to Peter Lopez, lawyer of musical artists and former representative of Michael Jackson
Entrevista a Peter López, abogado de artistas musicales y ex representante de Michael Jackson
The W Radio | July 2, 2009
La W Radio | Julio 2 de 2009
My note: "W Radio" is a radio station belonging to the group PRISA Radio. This interview with Peter Lopez was made in the radio station

"W radio" de Colombia

 (And yes, the

"W Radio" of Mexico

also belongs to this group)
Nota mía: "W radio" es una estación de radio que pertenece al grupo

PRISA Radio

. Esta entrevista fue hecha en la estación de radio

"W radio" de Colombia

 (Y si, también la

"W radio" de México

pertenece a este grupo)
Transcript of the Interview
Transcripción de la entrevista
Interviewer: Ismael What's the story?
Entrevistador: Ismael ¿Cuál es la historia?
Another interviewer: About  Peter Lopez current  musical attorney, or who was the last musical lawyer of Michael Jackson, who greeted us on the phone from Los Angeles
Otro entrevistador: La de Peter López el actual abogado musical, o quien fue el último abogado musical de Michael Jackson nos atiende desde Los Angeles
Interviewer:  Mr. Lopez
Entrevistador: Sr. López
Peter Lopez: Tell me
Peter Lopez: Dígame
Interviewer:  Welcome to the W
Entrevistador:  Bienvenido a la W
Peter Lopez: Yes
Peter Lopez: Si
Interviewer: And please tell us, You have worked with a number of celebrities, you has been the lawyer of Michael Buble, Julio Iglesias, Mana, a number of stars. Tell us about your experience with Michael Jackson
Entrevistador: Y por favor cuéntenos,  Usted ha trabajado con un sin número de celebridades, ha sido el abogado de Michael Bubble, Julio Iglesias, Maná, un sin número de estrellas. Cuéntenos su experiencia con Michael Jackson
Peter Lopez:  Well… something amazing, a moment… the biggest star on the planet in the history, and it was an honor to work with him in the past three years. We did the return of his career with the 25th anniversary of Thriller last year, we launched it with collaborations with Akon, Fergie, Will I Am of The Black Eyed Peas and Kenie West and was something really amazing and a commercial with Pepsi Cola Company, what happened with a product of them LIFEWATER®, Naomi Campbell dancing Thriller with lizards, and the last deal of his new shows in London that were to begin next week. All this is sad in truth, knowing his beautiful children 12, 11 and 7 years old who loved their father and who today have no father, no mother or anything.
Peter Lopez:  Pues… algo increíble, un momento… la estrella más grande en este planeta en toda la historia, y fue un honor trabajar con él en los últimos tres años. Hicimos el regreso a su carrera con el aniversario 25 años de Thriller el año pasado, lanzamos con colaboraciones de Akon, Fergie, de Will I Am de The Black Eyed Peas y de Kenie West y fue algo realmente increíble y un comercial con la Compañía PepsiCola que pasó  con un producto de ellos LIFEWATER® Naomi Campbell bailando a Thriller con lagartos, y el deal (trato) último de sus nuevos shows en Londres que iba a empezar la semana que viene. Todo esto la verdad triste conociendo sus hijos bonitos 12, 11 y 7 años que amaban a su padre y que hoy ya no tienen padre, ni madre ni nada.
Interviewer: Mr. Lopez now that you speak of Mr. Jackson's 50 concerts in the UK, there are those who say it was an absolute exaggeration to pretend to do those 50 concerts. But the British press says something more serious and it is that to Mr. Jackson always was told that they were 10 concerts. What is the truth of the concerts in England?
Entrevistador:  Sr. López ahora que Usted habla de los 50 conciertos del Sr. Jackson en el Reino Unido hay quienes dicen que eso era una absoluta exageración pretender esos 50 conciertos. Pero la prensa británica dice algo más grave y es que al Sr. Jackson siempre le dijeron que eran 10 conciertos ¿cuál es la verdad de los conciertos en Inglaterra?
Peter Lopez: The truth is that the idea was launched a certain amount of shows; starting with this idea we announced 10, and maybe sold 10 or 15 or 20, and through a few weeks or a month or two, maybe we came to 25 or 30, this was the idea. What happened was something extraordinary: in three hours they sold nearly 700 000, 800 000 tickets, 50 shows and I think that would have been 150 shows of 20,000 people each show something that nobody could believe, then we stop the shows at 50, saying this is enough, not more. In three hours we stopped the sale because… eh… but everyone in truth was wondering how much we can sell when we was going to sell and it was obviously something extraordinary.
Peter Lopez: La verdad es que la idea era pues lanzar cierta cantidad de shows, empezando con la idea nosotros anunciamos 10 y a lo mejor se venderían 10 rápido o 15 o 20, y a través de unas semanas o un mes o dos meses llegábamos a lo mejor a 25 o 30, era la idea. Lo que pasó era algo extraordinario: en tres horas vendieron casi 700 mil, 800 mil boletos, 50 shows y creo yo que hubieran sido 150 shows de 20 mil personas cada show  Algo que nadie podía creer, entonces paramos los shows a 50 diciendo esto es ya, no más. En tres horas se para la venta porque… eh pero todo el mundo la verdad dudando cuánto podríamos vender cuando fuéramos a vender y fue algo extraordinario obviamente.
Interviewer: Mr. Lopez a judge granted, even the will, to Katherine, Michael Jackson's mother, the temporary custody. You who were so close the last moments with him, What would he think about that now his children are so close to his father Joe Jackson and even that them to end up being raised by him?
Entrevistadora: Sr. López un juez le otorgó, incluso el testamento, la custodia temporal a Katherine Jackson la madre de Michael, Usted que estuvo tan cerca los últimos momentos con él, ¿Qué estaría pensando él ahora de que sus hijos estén tan cerca de su padre Joe Jackson, e incluso que terminen de ser criados por él?
Peter Lopez: Well, he really loved his mother, his mother was the person closest to him, in addition to his children; and I think he… if there is any person who required to care for his children was his mother. The relationship of the mother and the father is a relationship where one lives in Las Vegas and other lives here in Los Angeles and they were not so close in recent years. Then… but he wanted his children were with his mother the person he loved more in the planet.
Peter Lopez: Pues realmente él amaba a su madre, su madre era la persona más cercana a parte de sus hijos y yo creo que él… si hay alguna persona que deba cuidar a sus hijos era su mamá. La relación de la mamá y el papá es una relación donde uno vive en Las Vegas otro vive aquí en Los Angeles y no estaban tan juntos en los últimos años. Entonces… pero él quería que sus hijos estuvieran con su mamá la persona que él quería más en todo el planeta.
Interviewer: Sure Peter. When was the last time you saw Michael and How you saw him? Tell us about that meeting.
Entrevistador: Claro Peter. ¿Cuándo fue la última vez que  Usted vio a Michael y cómo lo vio? Cuéntenos sobre ese encuentro.
Peter Lopez: Well I saw him in recent weeks several times, in recent months a lot; he was in good condition. I think he was happy. Very happy. Happy to be back doing shows, he loved his audience, his fans, he loved all the people who always gave all their love to him and he was expecting get back to having that love on stage.
Peter Lopez: No pues, yo lo ví en las últimas semanas varias veces, en los últimos meses mucho, él estaba en buena condición. Creo que estaba feliz. Muy feliz, contento de estar otra vez haciendo shows, él amaba a su público, sus fans, amaba a todas las personas que siempre le dieron todo su cariño a él y él esperando ya llegar otra vez a tener ese cariño en el escenario.
Interviewer: Peter, Michael Jackson with these fifty concerts in England, He wanted to revive, to call it somehow, his dead career or give it an end to his musical cycle and get out so big?
Entrevistador: Peter, Michael Jackson con estos cincuenta conciertos en Inglaterra ¿Quería reavivar, por decirlo de alguna manera, su carrera muerta o darle final a su ciclo musical y salir por lo grande?
Peter Lopez: Well, the truth is that he was not so obsessed to return to the stage. It was something… he wanted to make music in a studio, I believe, that he always had the idea that he had done thousands of concerts and that part was something that was interesting for a short time, but not like he wanted to do 200 or do 300 shows and world tours. He was really focused on his children and be with his family. To do things with movies and other things
Peter Lopez: Pues la verdad es que él no estaba tan obsesionado de regresar al escenario. Era algo que, él quería hacer música en estudio, creo que siempre tuvo la idea de que él ya había hecho miles de conciertos y ya esa parte era algo que si fue interesante por un periodo breve, pero no como si él quisiera hacer 200 o 300 shows y hacer giras mundiales. Estaba muy pues, la verdad, enfocado en sus hijos y estar con su familia. Hacer cosas con películas y otras cosas
Interviewer: Mr. Lopez, before the next question, well… I want that our listeners we told them again… Until a week ago that Michael Jackson died, What was your relationship with Michael Jackson? What work you did for him?
Entrevistador: Sr. López, antes de la siguiente pregunta, pues… quisiera que les contáramos a nuestros oyentes nuevamente, pues hasta hace una semana que murió Michael Jackson ¿Cuál era su relación con Michael Jackson? Usted ¿Qué trabajo hacía para él?
Peter Lopez: I did all what have to do with this new phase of music, arranging collaborations with major music producers, with different artists, recording new material, arranging all the details of a theatrical work that he would make about Thriller in London in 2010, details of all that had to do with other interests in movies, and new music that he wanted to do, that he was recording,
Peter Lopez: Pues yo, todo lo que tenía que ver con esta nueva etapa de música, arreglando colaboraciones con productores de música importantes, con diferentes artistas, grabando nuevo material, arreglando todos los detalles de una obra de teatro que iba a hacer de Thriller en Londres para 2010, detalles de todo lo que tenía que hacer con otros intereses en películas, y la música nueva que él quería hacer, que estaba grabando,
Interviewer: How could you define that position? Were you as him new producer?
Entrevistador: ¿Cómo podríamos definir ese cargo? ¿Era Usted como su nuevo productor?
Peter Lopez: Well, I was his lawyer in all that was his career as an artist in recent years… but more than be a lawyer… because I work with many artists, many producers, I was helping with the music and if you see the booklets on Thriller 25, you can see it says: Thanks to Peter Lopez for making it possible this project, because I was the person who brought to Kenie West, Akon, Fergie, Will I am, all these artists that he… who appeared with him in his Thriller and other artists and… then I had a role beyond just one person reading contracts
Peter Lopez: Pues yo era su abogado de todo lo que era su carrera como artista, en estos últimos años y… pero más que ser abogado yo estaba… porque llevo muchos artistas, muchos productores, estaba ayudándolo con la música y si tu ves los libretos en Thriller 25, puedes ver que dice: Gracias a Peter Lopez por hacer posible este proyecto, porque yo fui la persona que traje a Kenie West, a Akon, a Fergie, a Will I am,  a todos estos artistas que él… que aparecieron con él en su Thriller y otros artistas y… entonces tuve un papel más allá de sólo una persona leyendo contratos
Interviewer: Since you were not just a lawyer, but a person who was so involved with his professional projects, you also had access to his personal life, because you talked a lot with him. Now after all that has happened, after all that everything is known now. Do you think that Michael Jackson physically, physically have endured the 50 concerts?
Entrevistador: Ya que era no simplemente un abogado, sino una persona que estaba tan involucrada con sus proyectos profesionales, pues tenía también acceso a su vida personal, porque hablaba mucho con él. Hoy después de todo lo que ha pasado, de todo lo que todo se ha sabido. ¿Usted considera que Michael Jackson físicamente, físicamente habría aguantado los 50 conciertos?
Peter Lopez: Well, I think that yes he endured, because the idea was to make these 50 concerts across five months, not a show every night, then the plan was to do three shows in a week or so, and do shows not of three hours but as from 90 to 100 minutes, and with other elements in the show where he did not have to be stressed out and he was in good condition I think. And I think yes, he would have endured the 50 shows because the plan was to make them through long, not the 50 shows in a month.
Peter Lopez: Pues yo creo que si, él aguantaba, porque la idea era hacer estos 50 conciertos a través de cinco meses, no un show cada noche, entonces el plan era hacer tres shows a la semana más o menos y hacer shows no de tres horas, sino como de 90 a 100 minutos y con otros elementos en el show donde él no tenía que estar estresado y estaba en buena condición creo yo,  y creo que si aguantaba los 50 shows porque el plan era hacerlos a través de mucho tiempo, no los 50 shows en un mes.
Interviewer:  Mr. Lopez Today the British press wonders why Michael Jackson asked so many painkillers, many drugs, hard drugs. That demerol, now known from other tranquilizers. Some say that the only thing that hurt to Michael Jackson was the solitude of his soul; but some believe that he really suffered; that he had a physical pain that even do not let him sleep. Why Michael Jackson needed so many drugs? What did it hurt him?
Entrevistador: Sr. López Hoy la prensa británica se pregunta ¿Por qué Michael Jackson pedía a gritos tantos calmantes, tantos medicamentos, drogas duras? Ese demerol, ahora se sabe de otros tranquilizantes. Hay quienes dicen que a Michael Jackson lo único que le dolía era la soledad de su alma, pero hay quienes piensan que él si sufría, que tenía un dolor físico que inclusive no le dejaba dormir. ¿Por qué Michael Jackson necesitaba tantos medicamentos? ¿Qué era lo que le dolía?
Peter Lopez: Actually I do not know anything about that. I never saw him with that and I think that is something that is totally exaggerated in the press.
Peter Lopez: La verdad yo no conozco nada de eso. Yo nunca lo ví a él con eso y creo que es una cosa que está totalmente exagerado en la prensa.
Interviewer: Speaking of those rehearses to these shows that have generated so much controversy, it is said that with the material that is collected from rehearses and is recorded, could be create an album and a video Is that so?
Entrevistador: A propósito de esos ensayos para esos conciertos que han generado tanta controversia, se dice que con el material que hay recopilado de los ensayos que está grabado se podría montar un disco y un video ¿Eso es así?
Peter Lopez: Yes, yes. The promoter recorded all the rehearses in HD and yes there is much material to make something that can be amazing for fans and this is a project that after all these media grooves, maybe in a month or two months we will see what we can do there.
Peter Lopez: Si, si. El promotor grabó todos los ensayos en alta definición y si hay mucho material para hacer algo que puede ser increíble para los fans y ese es un proyecto que después de todos estos surcos de medios, a lo mejor un mes o dos meses vamos a ver qué podemos hacer ahí.
Interviewer: Yes.

Mr. Lopez. Where are You from?

Entrevistador: Si.

Sr. Lopez ¿Usted de dónde es?

Peter Lopez: I'm from here of Los Angeles, of Mexican parents. I was born here in San Francisco and I live here in Los Angeles California.
Peter Lopez: Yo soy de aquí de Los Angeles, De padres mexicanos, nacido aquí en San Francisco y resido aquí en Los Angeles California.
Interviewer: The choreographer Keny also seem to have a Mexican name. He was also Mexican?
Entrevistador: El coreógrafo Keny también parecería tener un apellido mexicano ¿Era también mexicano?
Peter Lopez He was Puerto Rican. He is Puerto Rican, born in New York, and then he is American of Puerto Rican descent. A talented tremendous friend of Michael, tremendous friend of mine and…
Peter Lopez: Era puertorriqueño,  es puertorriqueño nacido en Nueva York, entonces americano de descendencia puertorriqueña. Un talentoso tremendo amigo de Michael, tremendo amigo mío y…
Interviewer: Is Keny Ortega No?
Entrevistador:  Keny Ortega ¿No?
Peter Lopez Keny Ortega exactly
Peter Lopez: Keny Ortega, exactamente
Interviewer: Yes. There is another episode that has to do with another Latin name which apparently is Colombian: The sister-in-law of Michael Jackson Alejandra Martinez, Alejandra Jackson, who is married to a brother of Michael Jackson, but she was married to another brother of Michael Jackson, that is, she is the mother of five nephews of Michael Jackson. Is it true that this woman is Colombian? Do you know her?
Entrevistador: Si. Hay otro episodio que tiene que ver con otro nombre latino, que aparentemente es colombiano. El de una cuñada de Michael Jackson: Alejandra Martínez, Alejandra Jackson, que está casada con uno de los hermanos de Michael Jackson, pero que estuvo casada con otro hermano de Michael Jackson, es decir: es la madre de cinco sobrinos de Michael Jackson, ¿Es verdad que esa mujer es colombiana? ¿Usted la conoce?
Peter Lopez: I know her. I am not really sure if she is Colombian, I know that is Latin American. I'm not sure, really
Peter Lopez: La conozco. La verdad no estoy seguro si es colombiana, yo sé que es latina, no estoy muy seguro la verdad.
Interviewer: And she was actually married with two Jacksons and is the mother of five children?
Entrevistador: Y efectivamente ¿estuvo casada con dos Jackson y es madre de cinco hijos?
Peter Lopez: I think so. I'm not very close to that person. I know her and I have seen her several times, but I'm not aware of all these details.
Peter Lopez: Creo que si. Yo no soy muy cercano a esa persona. La conozco y la he visto varias veces, pero no estoy muy enterado de todos esos detalles.
Interviewer: Peter, you just said that Michael Jackson wanted to do music, filmmaking… Could you expand a little on you answer and the idea of Michael Jackson to get into this world of entertainment?
Entrevistador: Peter, Usted acaba de decir que Michael Jackson quería hacer musicales, hacer cine ¿Nos podría ampliar un poquito sobre esta respuesta y sobre esa idea de Michael Jackson de introducirse en ese mundo del espectáculo?
Peter Lopez: Well, Michael was a big fan of the movies, of the films; of Elizabeth Taylor, all classic movies, Hollywood and he always talked about that the films are a way to live forever, and he was very interested. He made the film The Wiz, he had a role in the movie with Diana Ross, and all that he made in Thriller, with Michael Landis… John Landis is a mini movie. He made many videos he changed what the genre of music video was, with everything he did Thriller and other videos that were actually mini-movies. That was something he really wanted to do at this time of his life, get away a little bit of music and focus a little in movies
Peter Lopez: No, pues Michael era un gran fan del cine, del film. De Elizabeth Taylor, de todas las películas clásicas, de Hollywood y el siempre hablaba sobre que el cine es una manera de vivir para siempre, y él tenía mucho interés. Hizo la película The Wiz, un papel ahí con Diana Ross, y pues todo lo que hizo de Thriller, con Michael Landis… John Landis, es una pequeña película. Hizo muchos videos, cambió lo que es el género del video musical con todo lo que hizo de Thriller y otros videos que eran realmente mini-películas. Eso era algo que él realmente quería hacer en esta época de su vida, alejarse un poquito de la música y enfocarse un poquito en el cine.
Interviewer: That circle close to Michael Jackson, What were people, outside of You, in whom Michael Jackson trusted?
Entrevistador: Ese círculo cercano a Michael Jackson, ¿Cuáles eran las personas fuera de Usted, de confianza de Michael Jackson?
Peter Lopez: Well, there were several, obviously Keny Ortega. I think more than anything his mother, his mother Katherine, and people of the promoter AEG, and an assistant, but Keny was with him every day in the last two months arranging the show and planning different things with him. His mother always was by his side, very close to his mother. And more or less those…
Peter Lopez: Pues había varios obviamente, Keny Ortega. Creo más que nada, su mamá, su madre Katherine, y la gente de la promotora AEG,  y un asistente, pero Keny estaba con él todos los días en estos últimos dos meses arreglando el show y planeando diferentes cosas con él. Su madre siempre a su lado, muy cercano a su madre. Y más o menos esos…
(It is hear a woman's voice and Peter says "still is not 100% confirmed")
(Se escucha una voz de mujer y Peter dice "todavía no está 100% confirmado")
Interviewer: Mr. Lopez thank you very much for attend us and we are very sorry… without knowing Michael Jackson we have been so sad, we imagine how you feel who lived with him these past three years.
Entrevistador: Sr. Lopez muchas gracias por atendernos y lamentamos muchísimo… sin conocer a Michael Jackson hemos estado tan tristes, imaginamos cómo estará Usted que convivió con él estos últimos tres años.
Peter Lopez: Well, thank you very much. As I say it is something that… we are still here so sad and the children… Poor children were…
Peter Lopez: No pues muchas gracias como digo es algo que todavía estamos aquí muy tristes y los hijos. Pobres niños que eran…
Here the interviewers cut in the audio of the interview, and the broadcasters continue with speculations that I'm not going to transcribe here, since the only things important to me are the responses of Peter Lopez.
Aquí cortan la entrevista en el audio, y los locutores continúan con especulaciones que yo no voy a transcribir aquí, ya que lo único importante para mí son las repuestas de Peter Lopez.
.
Fuente/Source
http://www.wradio.com.co/oir.aspx?id=838439
.
.
.
Recopilación de información, transcripción y traducción al inglés realizada por Gisela F., para tributomj.com Se autoriza la reproducción de esta entrada en otros sitios,siempre y cuando se agregue 1) la (s) fuente (s) original (es) de la información 2) El vínculo a esta entrada de este blog. Todas las fuentes.  EXCEPCIONES: No autorizamos que nuestro trabajo (Investigación, recopilación, traducción, etc.) se reproduzca en sitios dedicados a temas de teorías conspirativas y todas sus ramificaciones, o sitios dedicados a "la falsa muerte" DE NINGUNA MANERA AUTORIZAMOS SE NOS INVOLUCRE O RELACIONE CON ESOS SITIOS ENGAÑOSOS (Def.).
.
URL corta de esta página
.
.