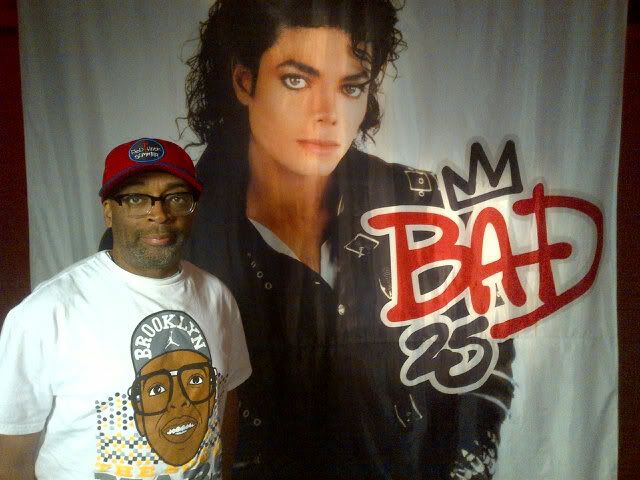 .
.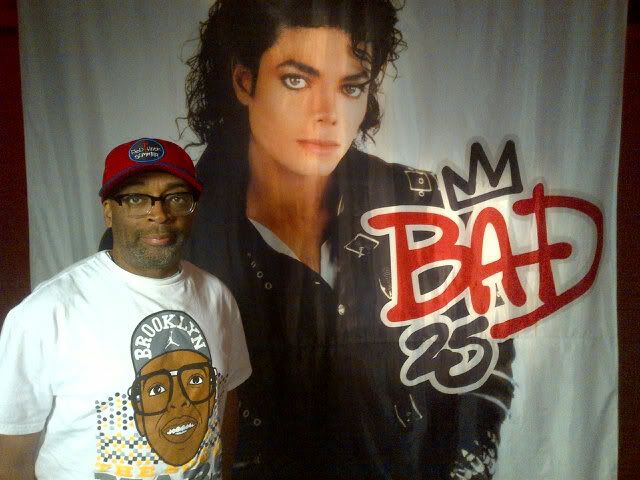 .
.
Spike Lee on Michael Jackson and Bad 25 (69th Venice International Film Festival)
.
.
.
Spike Lee habla sobre Michael Jackson y BAD 25 (En el 69º. Festival Internacional de Cine de Venecia.
31/08/2012
Resumen de lo que Spike dice:
Hoy es un día muy especial, y no es casualidad. Hoy hace 25 años el álbum BAD fue lanzado. Exactamente hoy, 31 de agosto, hace 25 años el álbum fue lanzado.
Y hace dos días fue el aniversario del natalicio de Michael Jackson. El nació el 29 de agosto de 1958.
Entonces nosotros… es sólo… ¡Shamoon! ¿Sabes?
Los niños aprenderán más sobre su padre cuando vean este documental.
Una de las razones por las que yo acepté hacerlo es porque tanto el Estate como Sony querían concentrarse sólo en la música. Y yo creo que hace mucho tiempo que dejamos de concentrarnos (Me incluyo yo)  en lo que hizo en la música. Yo creo que es tiempo de concentrarse en la música, en el genio de Michael Jackson.
Elegí realmente dignificar su proceso creativo. Nosotros fuimos bendecidos con el producto final, pero no vimos como fue puesto junto (realizado  el proceso). Vimos el producto final, no vimos la sangre, el sudor y las lágrimas todo el trabajo que se realizó para una obra maestra. Hablamos con los músicos, hablamos con gente de la disquera, que estuvieron concentrados con Michael haciendo el trabajo.
La gente olvida que este álbum BAD siguió a Thriller, que aún hoy es el álbum más vendido de la historia, entonces sólo piensa en la tremenda presión bajo la que  estaba Michael. Hacer el seguimiento del más grande álbum de la historia, necesitar que BAD vendiera 100 millones… lo que provocó que nunca estuviera satisfecho  con lo que hacía, él quería hacerlo mejor, más grande, más crecido cada vez,  y eso es lo que hacen los grandes artistas siempre, los grandes artistas no se vuelve estáticos, los grandes artistas no repiten lo mismo una y otra vez. Y esto es de lo que trata este documental.
Y también estuvimos con el Michael Jackson Estate, con el Sr. John Branca, John McClain que no está…  aquí, nosotros tuvimos acceso completo, ustedes vieron la filmación, tenemos imágenes nunca antes vistas,  el nodo del  filme es como Michael escribió y lo verán en el filme: Estudia a los grandes y conviértete en más grande. Quiero decir, eso es grandioso, Michael no se sentó a ver,  Michael estudió a Bob Fosse, Gene Kelly, Fred Astaire, James Brown,  Marvin Gaye, Steve Wonder, el analizaba de esos grandes no sólo la música, sino el arte, la fotografía, la danza, él tomaba todo lo que aprendía de todos aquellos grandes artistas del mundo y cooperaron en lo que el hacía.
Entonces… La conferencia de prensa terminó (Risas).
Lo que Michael Jackson significa para mí en este documental… Esto es para mí, es una carta de amor a Michael Jackson. Yo crecí con Michael Jackson. Yo nací en 1957 y Michael nació en 1958 y también Prince, Prince y Michael son de la misma edad. Entonces Michael fue parte de los Jackson 5, (ruido del audio) y cuando vi a los Jackson 5 en el Ed Sullivan show, yo quería ser Michael Jackson.  Tenía el afro, el look, pero no el canto y el baile y entonces ahí paró. Entonces aunque soy un poco mayor que él, yo crecí con Michael Jackson.
He tenido la oportunidad de trabajar con muchas de esas personas que yo amaba, Michael, Steve Wonder, Prince, con esa gente con la que yo crecí.  Y para mí el documental fue la confirmación de cómo trabaja. …  Esas personas de las que estamos hablando trabajan así
porque Michael a los 17 años estaba estudiando a Jame Brown, Jackie Olsen,  estuvo bajo la tutela de Berry Gordy en Motown, analizaba a Steve Wonder, a The Supremes, a The Temptations a Marvin Gaye, quiero decir, cómo usas todo eso para impactar en tu trabajo musical…. Para mí estas personas… una vez más: este documental es sobre la música de Michael Jackson. Todo lo demás no está.  Y para mí es una tremenda biografía de trabajo.
Yo estaba en una conferencia en Canes hablando y personas me llamaron. Y como muchas personas en el documental, yo no lo creía. Yo dije "esto no es verdad".  Hasta cuando Jermaine Jackson dio la conferencia de prensa en el hospital diciendo que su hermano nos había dejado…  entonces yo volé de vuelta a Nueva York, y no quiero mentir, me sorprendió muy fuerte, por meses, incluso mi esposa y mis hijos me decían ¿Qué está mal contigo?
Y yo ví mi Ipad y esto es penoso, yo sólo tenía un álbum de Michael Jackson: Off the Wall en mi IPad. Yo tenía los cds, pero en mi IPad sólo tenía uno, y entonces hablé a Apple y les dije: Dénme cada uno de los álbums de los Jackson 5, The Jacksons, Michael Jackson, cada álbum pónganlo en mi IPad.  Y por todo el siguiente año mi familia me odió porque yo sólo tocaba a Michael Jackson.  24 horas 7 días… Michael Jackson, Michael Jackson, Michael Jackson.
Todos los bailes de Michael Jackson…. Tienes razón BAD 25 porque no los incluí. Es una decision difícil.  Pero incluímos a coreógrafos, que es lo mismo que de dónde los bailes vinieron….
Fred Astaire y Gene Kelly fueron dos de sus grandes héroes, pero es como con Brown puestos juntos. (…) piezas como The Girl Hunt  de la película The Band Wagon de Vincent Minelli, en donde tenemos a Fred Astaire… Y tenemos a The girl Hunt puesta esto en Smooth Criminal, y para mí esto es increíble.
Man in the Mirror se ha convertido en un himno de Michael. Igual que cuando murió Lenon la gente escuchó Imagine, cuando Michael falleció la gente escuchó Man in the Mirror…  Yo no puedo decir que Michael decía que él era Jesucristo, pero cuando tú lo ves interpretar esa canción él está en algún otro lugar. La actuación en el Wembley es una de las más grandes actuaciones de siempre, y cuando lo ves interpretar esa canción, tú ves que él no es de este mundo. El está en otro… El está en otro lugar.  Entonces yo no puedo decir porqué él pone los brazos así.
Vas a provocar que de palmadas. Michael no hizo videos, Michael y su equipo hicieron cortometrajes. Que es una forma más arriba de los videos y sólo con verlo tú puedes decirme, son cortometrajes.
Tuve una entrevista con Quincy y estamos dando más respeto en este documental. Tratamos sobre su contribución a Michael Jackson, miramos los tres álbumes, desde Off the Wall, Thriller y BAD. Y como puedes ver son tres de los mejores álbumes que jamás se hicieron…  y entonces vemos la magnífica contribución de Quincy Jones al arte de Michael Jackson.
Yo estuve muy impresionado por Wensley Snipes, en el video BAD y yo quería trabajar con él, pero el eligió otro filme. Entonces escogí otro film …
.
.
Información sobre el video en You Tube
.
| | |
| --- | --- |
| Publicado el 31/08/2012 por myETVmedia | Publicado el 31/08/2012 Por myETVmedia |
| Full film review at: | Revisión de la película completa en: |
| http://myetvmedia.com/film-review/bad25-spike-lees-love-letter-to-michael-jackson/ | |
| Spike Lee's highly anticipated Bad25 celebrating Michael Jackson premiers at the 69th Venice Film Festival. Exceeding expectations, this outstanding documentary in honour of one of the greatest entertainers of our time, one of the few artists who could legitimately claim to be Elvis Presley's successor as the King of Pop, is a fitting tribute. | La muy esperada película de Spike Lee Bad25 celebrando a Michael Jackson se estrena en el 69º Festival de Cine de Venecia. Superando las expectativas, este documental excepcional en honor de uno de los más grandes artistas de nuestro tiempo, uno de los pocos artistas que puede legítimamente afirmar ser el sucesor de Elvis Presley como el Rey del Pop, es un tributo apropiado. |
| Spike Lee is himself being honored at Venice where he has had a constant presence since his film Clockers was shown in competition in 1995. His film career has spanned 30 years and covered a range of political and social issues with ingenuity, creativity and courage. See full press conference interview with Spike Lee & Review of BAD25 on myETVmedia. | Spike Lee está por sí mismo siendo homenajeado en Venecia, donde ha tenido una presencia constante desde que su película Clockers se proyectó en competición en 1995. Su carrera cinematográfica se ha extendido por 30 años y ha cubierto  una amplia gama de temas políticos y sociales con ingenio, creatividad y coraje. Ver la entrevista completa de la conferencia de prensa con Spike Lee y reseña de BAD25 en myETVmedia. |
.
El artículo relacionado con el video
.
.
| | |
| --- | --- |
| BAD 25 – Spike Lee's Love Letter to Michael Jackson | BAD 25 – Carta de Amor de Spike Lee a Michael Jackson |
| Posted 9 hours ago by myetvmedia | Publicado hace 9 horas por myetvmedia |
| Spike Lee's Bad 25 is a truly amazing documentary focusing on the passion, inspiration and most of all – the music. By selectively presenting rare, unseen archival footage and interviews with people closest to the creation of the record BAD, Spike Lee shows us the brilliance of Michael Jackson as an artist. He takes us on a trip, song by song, making us feel like a part of the process. Michael Jackson's life was mirrored in his compositions. What makes this film fresh is that we don't see Michael through the eyes of media nor through the eyes of people who idealized him. The film does not make a statement on Jackson's life – it describes his music, dancing skills, songwriting process and professionalism. | Bad 25 de Spike Lee es un documental realmente sorprendente centrado en la pasión, inspiración y sobre todo – la música. Al presentar selectivamente imágenes raras, no vistas  de archivo y entrevistas con las personas más cercanas a la creación del álbum BAD, Spike Lee nos muestra el brillo de Michael Jackson como artista. Él nos lleva en un viaje, canción por canción, nos hace sentir como una parte del proceso. La vida de Michael Jackson estaba reflejada en sus composiciones. Lo que hace esta película fresca es que no vemos a Michael a través de los ojos de los medios de comunicación ni a través de los ojos de la gente que lo idealizó. La película no hace una declaración sobre la vida de Jackson – esta describe su música, baile, el proceso de composición de canciones y profesionalismo. |
| I was expecting yet another film about the tragedy and/or glory of Michael Jackson, a person trapped in a 'wonderland' of the celebrity life. Instead I saw a document on the creation of one of the most important albums in the history of music. As Spike Lee clarified afterwards – he wanted to show the work of Michael Jackson, to share the creative process. To see the blood, sweat and tears. "Michael did not just sit on his ass" says Lee. He was working hard from the age of 7 when he was studying the great musicians like James Brown. Michael Jackson confessed two of his greatest heroes were Fred Astaire and Gene Kelly. Spike Lee says he wanted to show how much hard work it is. "You don't just roll out of bed and become a genius". He wanted to show how involved in every aspect of the production Michael was. | Yo esperaba otra película sobre la tragedia y / o la gloria de Michael Jackson, una persona atrapada en un "país de las maravillas" de la vida de las celebridades. En su lugar vi un documental sobre la creación de uno de los discos más importantes en la historia de la música. Como Spike Lee aclaró después – él quería mostrar la obra de Michael Jackson, compartir el proceso creativo. Ver la sangre, sudor y lágrimas. "Michael no se limitó a sentarse", dice Lee. Él estaba trabajando duro desde la edad de 7 años cuando estudiaba a los grandes músicos como James Brown. Michael Jackson confesó que dos de sus más grandes héroes fueron Fred Astaire y Gene Kelly. Spike Lee dijo que él quería mostrar cuánto trabajo duro fue. "Tú no sólo te levantas de la cama y te conviertes en un genio". Él quería mostrar cuan involucrado en cada aspecto de la producción estuvo Michael |
| Similar to Cameron Crowe's  Pearl Jam 20' we can tell that Spike Lee knows his story from the inside – culturally, emotionally and sometimes even esoterically. Lee managed to show archival footage of Michael's collaborations with Quincy Jones and also to interview not only the group of people involved in the production process but also different generations of artists inspired by Jackson including Kanye West, Justin Bieber, Chris Brown, Cheryl Crowe and ?estlove among others. | Al igual que en "Pearl Jam 20" de Cameron Crowe podemos decir que Spike Lee conoce su historia desde el interior – culturalmente, emocional e incluso a veces esotéricamente. Lee logró mostrar imágenes de archivo de colaboraciones de Michael con Quincy Jones y también entrevistar no sólo al grupo de personas involucradas en el proceso de producción, sino también a diferentes generaciones de artistas inspirados por Jackson como Kanye West, Justin Bieber, Chris Brown, Crowe Cheryl y ?estlove entre otros. |
| Michael Jackson, like Elvis Presley or The Beatles, changed the music scene forever. 'BAD' came after two huge successes; Thriller (the world's best selling album) and 'Off the Wall' but as Spike Lee shows, Michael wanted to do even better. The film mentions Jackson's controversial life and his death only when it's absolutely justified – to show the inspiration and passion of an artist. | Michael Jackson, como Elvis Presley o The Beatles, cambió la escena de la música para siempre. "BAD" se produjo después de dos grandes éxitos, Thriller (el álbum más vendido del mundo) y "Off the Wall", pero como Spike Lee muestra, Michael quería hacer aún mejor. La película menciona la controvertida vida de Jackson y su muerte sólo cuando es absolutamente justificado – para mostrar la inspiración y la pasión de un artista. |
| Bad25 is not only about Michael's talent, it's about a team of professionals who contributed to making 'Bad' so special. It goes into depth on contributions of producer Quincy Jones, choreographers Jeffrey Daniel and Vincent Paterson, singer/songwriter Siedah Garrett, filmmakers Martin Scorsese ('BAD' short film) and Joe Pytka ('Dirty Diana', 'The Way You Make Me Feel' music videos) and many more. | Bad25 no es sólo sobre el talento de Michael, esta trata de un equipo de profesionales que han contribuido a hacer de 'Bad' algo tan especial. Se profundiza en las contribuciones del productor Quincy Jones, los coreógrafos Jeffrey Daniel y Vincent Paterson, la cantante/compositora Siedah Garrett, los directores cinematográficos Martin Scorsese (cortometraje de "BAD") y Joe Pytka (videos musicales para "Dirty Diana", "The Way You Make Me Feel") y muchos más. |
| The opening sequences of the doc are not what you would expect for a typical documentary and this reminds us exactly who the director is. There are 'in your face moments' when the 'F word' is treated as something usual and funny. There are moments when you laugh, there are moments when an occasional tear may drop from your eye. In the end though it is the passion for Michael Jackson's music that describes the film most accurately. A truly great tribute for the 25th anniversary of 'BAD' released coincidentally on this date, Aug 31st a quarter century ago. | Las secuencias de apertura del documental no son lo que te esperas de un documental típico y esto nos recuerda exactamente quién es el director. Hay "momentos en tu cara" cuando la palabra' F 'se trata como algo habitual y divertida. Hay momentos en que te ríes, hay momentos en que una lágrima ocasional puede caer de tu ojo. Al final, esto es pasión por la música de Michael Jackson, lo que describe la película con más precisión. Un homenaje verdaderamente grande para el 25 aniversario de "BAD" lanzado coincidentemente en esta fecha, 31 de agosto un cuarto de siglo atrás. |
| -Mat Kolodziejski | -Mat Kolodziejski |
.
Fuente/source
.
.
.
.
****************
****************
.
.
| | |
| --- | --- |
| Michael Jackson stands in a graffiti-filled subway car during the filming of the long-form music video for his song 'Bad,' directed by Martin Scorsese, New York, New York, November 1986. | Michael Jackson se encuentra en un vagón de metro lleno de graffitis durante la filmación de la versión larga del video musical de su canción 'BAD', dirigido por Martin Scorsese, Nueva York, Nueva York, noviembre de 1986. |
.
.
| | |
| --- | --- |
| Bad 25: Spike Lee's Thrilling Tribute to the Michael Jackson Album | Bad 25: Homenaje emocionante de Spike Lee al álbum de Michael Jackson |
| A quarter-century to the day after its release, Lee lays out the soul and the science behind the King of Pop's followup to 'Thriller' | Un cuarto de siglo después del día de su lanzamiento, Lee expone el alma y la ciencia detrás del seguimiento del Rey del Pop a 'Thriller' |
| By Richard Corliss | August 31, 2012 | Por Richard Corliss | August 31, 2012 |
| Bad 25 | Bad 25 |
| Year: 2012 | Año: 2012 |
| Director: Spike Lee | Director: Spike Lee |
| Studio: 40 Acres & A Mule Filmworks | Estudio: 40 Acres & A Mule Filmworks |
| Actors: Michael Jackson, Quincy Jones, Justin Bieber | Actores: Michael Jackson, Quincy Jones, Justin Bieber |
| "He's got the perfect balance and soul and science," producer Quincy Jones said of Michael Jackson, at the conclusion of their work on the album Bad (read TIME's oral history: The Making of Bad). Spike Lee's Bad 25, which has its world premiere at the Venice Film Festival tonight, exactly a quarter-century after its Aug. 31, 1987, release, shows the blend of inspiration and acuity that drove these two perfectionists in creating a worthy successor to their epochal 1982 album Thriller. Jackson said he meant bad "in all good will," and in that sense the movie isn't bad, it's baaad — and great. | "Él tiene el equilibrio perfecto y el alma y la ciencia", dijo el productor Quincy Jones, de Michael Jackson, en la conclusión de su trabajo en el álbum BAD (leer la historia oral de TIME: The Making of Bad). Spike Lee Bad 25, que tiene su estreno mundial esta noche en el Festival de Cine de Venecia, exactamente un cuarto de siglo después de su publicación el 31 de agosto 1987, muestra la mezcla de inspiración y agudeza que impulsó a estos dos perfeccionistas en la creación de un digno sucesor del de su álbum de época 1982 Thriller. Jackson dijo que el significado de "BAD" (malo) era en todo su buen sentido", y en ese sentido la película no es mala, es maaaaaaaaaaaalaa – y grande. |
| On mirrors wherever he went after Thriller, Jackson scrawled "100,000,000″ — the estimated worldwide sales of Thriller; still the best-selling album of all time and the winner of a record eight Grammy awards. Bad topped out at about 40 million, but it was the first album to birth five No. 1 singles (…) The Bad videos — or, as MJ insisted on calling them, "short films" — cemented Jackson's stature as a movie star who never appeared in a hit movie; thematically adventurous and expertly choreographed, they provided the crucial link between golden-age Hollywood musicals and YouTube. To extend the album's multimedia reach, Jackson toured for 16 months in 15 countries, 123 shows that displayed his preternatural showmanship and supernatural footwork. | Sobre los espejos dondequiera que iba después de Thriller, Jackson garabateaba "100.000.000" – las ventas estimadas en todo el mundo de Thriller, que sigue siendo el álbum más vendido de todos los tiempos y el ganador de un récord de ocho premios Grammy. BAD superó alrededor de 40 millones, pero fue el primer álbum dar a luz cinco sencillos N º 1 (…). Los videos de BAD – o, como MJ insistió en llamarlos "cortometrajes" – cementaron la firma de Jackson como una estrella de cine que nunca apareció en una película de éxito; temáticamente aventurero y coreografiado por expertos, ellos proveyeron el vínculo crucial entre la edad de oro de los musicales de Hollywood y YouTube. Para ampliar el alcance de un álbum multimedia Jackson recorrió durante 16 meses en 15 países, 123 espectáculos que muestran su talento para el espectáculo preternatural y el sobrenatural juego de piernas. |
| Covering it all in a galloping 2hr.10min, Bad 25 is also a love letter from the often acerbic director, who at today's press conference underlined the influence Jackson had on the aspirations of a black kid in Brooklyn. "I was born in 1957, he was born in '58,"Lee said. "And when I saw the Jackson Five on The Ed Sullivan Show, I wanted to be Michael Jackson. I had the Afro, the whole Jackson look. But the singing and dancing — that's where it stopped." | Cubriendo todo en un 2hr.10min galopantes, BAD 25 es también una carta de amor del director a menudo mordaz, que en la conferencia de prensa de hoy subrayó la influencia que Jackson tuvo en las aspiraciones de un chico negro en Brooklyn. "Yo nací en 1957, él nació en el '58", dijo Lee. "Y cuando vi a los Jackson Five en el Show de Ed Sullivan, yo quería ser Michael Jackson. Tuve el Afro, el completo look de Jackson. Sin embargo, el canto y el baile – ahí fue donde esto se detuvo" |
| No matter: Lee, who directed Jackson in the 1996 video for "They Don't Care About Us," is a master of slick, sleek propulsion, as both interviewer and assembler of the all-time great making-of documentary. Like This Is It, the 2009 film of Jackson's preparation for the concert tour aborted by his death at the age of 50, this is a demonstration of the backstage agony and artistry. The performer's fans — and all sentient movie lovers — who can't get to Venice or to the Toronto Film Festival, where Bad 25 is the closing-night attraction on Sep. 15, can catch this essential pop-culture artifact Thanksgiving Day on ABC. | No importa: Lee, quien dirigió a Jackson en el video de 1996 para "They Don't Care About Us,", es un maestro del pulido, de propulsión elegante, ya que tanto el entrevistador y el ensamblador de todo el gran tiempo del making-of del documental. Como This Is It, la película de 2009 sobre la preparación de Jackson para la gira de conciertos interrumpida por su muerte a la edad de 50 años, esto es una demostración de la agonía atrás de escenas y el arte. Los fans del artista – y todos los amantes del cine sensibles – que no se puede llegar a Venecia o al Festival de Cine de Toronto, donde BAD 25 es la atracción de la noche de clausura el 15 de septiembre, pueden ver este artefacto esencial de la cultura pop el Día de Acción de Gracias en ABC . |
| For Bad, Jackson wrote or cowrote most of the songs. Jones's maxim as a producer — "You can't polish doodoo" — meant an epic wrangle over which songs to include among the final 10 cuts. Engineer Bruce Swedien, the avuncular Wilford Brimley of microphone magic, would arrange the placement of musicians and backup singers, while Jones chose the supporting cast. The ballad "I Just Can't Stop Loving You" was intended as a duet with Whitney Houston or Barbra Streisand; instead it went to the little-known Siedah Garrett, a Jones protégé, with the young Sheryl Crow duetting with MJ on the tour. | Para BAD, Jackson escribió o co-escribió la mayoría de las canciones. La máxima de Jones como productor – "No se puede pulir caca" – significa una disputa épica sobre qué canciones se incluirían en los últimas 10 cortes. El Ingeniero Bruce Swedien, el paternal Wilford Brimley de la magia del micrófono, se haría cargo de la colocación de los músicos y cantantes de respaldo, mientras que Jones eligió el equipo de apoyo. La balada "I Just Cant Stop Loving You" fue concebida como un dueto con Whitney Houston o Barbra Streisand, pero fue la poco conocida Siedah Garrett, una protegida de Jones, con la joven  Sheryl Crow haciendo el dueto con MJ en la gira. |
| At the end of the six-month recording process, Garrett got another call: to write a ballad for the album's last track. She and Glen Ballard created the soaring "Man in the Mirror," with choral work by The Winans and Andrae Crouch. After the session wrapped, Crouch suggested one last hymnal "Change!" The departing singers were called back from the parking lot to provide the song's spiritual capper. | Al final del proceso de grabación de seis meses, Garrett recibió otra llamada: escribir una balada para la última pista del álbum. Ella y Glen Ballard crearon el imponente "Man in the Mirror", con el trabajo coral de The Winans and Andrae Crouch y. Después de la sesión envuelta, Crouch sugirió último himnario "¡Cambia!" Los cantantes que salían fueron llamados desde el estacionamiento para proporcionar a la canción el final espiritual |
| Jackson's videos for Thriller had employed John Landis (for the title tune), Bob Giraldi ("Beat It") and Steve Barron ("Billie Jean"), setting the standard for the MTV minimovie. The "Bad" track would be helmed by Martin Scorsese, who had just directed The Color of Money from a Richard Price script. Price offered Jackson an inner-city faceoff scenario; as he says in Bad 25, "Here's this asthmatic Italian and an asthmatic Jew" helping the sheltered, showbiz black kid "to show the brothers that he's down with them." The video, which costars a young Wesley Snipes (soon to be the star of Lee's Mo' Better Blues and Jungle Fever), was shot on the streets of Harlem. As Scorsese recalls, Michael "looked around and said, 'Do people really live here?'" | En los videos de Jackson para Thriller habían empleado a John Landis (para la melodía del título), Bob Giraldi ("Beat It") y Steve Barron ("Billie Jean"), estableciendo el estándar para la las MiniMovie MTV. La canción "BAD" sería dirigida por Martin Scorsese, que había apenas dirigido El color del dinero a partir de un guión de Richard Price. Price le ofreció a Jackson un escenario de cara a cara del centro de la ciudad, como él dice en BAD 25, "Aquí está este asmático italiano y un Judío asmático" ayudando al protegido, chico del mundo del espectáculo negro "demostrando a los hermanos que él está abajo con ellos." El Video, que es coprotagonizado por un joven Wesley Snipes (pronto será la estrella de Mo Better Blues' y Jungle Fever de Lee), fue filmado en las calles de Harlem. Como recuerda Scorsese, Michael "miró a su alrededor y dijo:" ¿La gente realmente vive aquí? '" |
| Bad 25 documents the conception and shooting of most of the album's videos, with testimony from their directors: Joe Pytka ("The Way You Make Me Feel" and "Dirty Diana"), Colin Chilvers ("Smooth Criminal") and California Raisins stop-motion auteur Will Vinton ("Speed Demon"). Tatiana Thombtzen, the slim model who could have been Michael Jackson as a female, recalls that Pytka advised her not to kiss Michael at the climax of "The Way You Make Me Feel." A kiss would have been redundant: the two were such visual twins that romance approached narcissism. | Bad 25 documenta la concepción y el rodaje de la mayoría de los vídeos del álbum, con el testimonio de sus directores: Joe Pytka ("The Way You Make Me Feel" y "Dirty Diana"), Colin Chilvers ("Smooth Criminal") y de California Raisins  autor de-motion, Will Vinton ("Speed Demon"). Tatiana Thombtzen, la modelo delgada que podría haber sido Michael Jackson como mujer, recuerda que Pytka le aconsejó no besar a Michael en el clímax de "The Way You Make Me Feel". Un beso hubiera sido dedundante: Los dos eran tales visualmente gemelos que el romance se acercaba al narcisismo. |
| "A lot of people misunderstand me," the singer said. "That's 'cause they don't know me at all." The Jackson revealed here is the obsessed professional who worked for months in Jones's recording studio and at home with a "B team" of top musicians laying down demo tracks. He practiced his gliding, lurching dance steps with Soul Train graduate Jeffrey Daniel and A Chorus Line cast member Gregg Burge. He pored over the dance films of Fred Astaire, Gene Kelly and Bob Fosse, writing in a note to himself, "Study the greats and become greater." A record- and rule-breaker, Jackson also built on and improved on a century of American song and dance. | "Mucha gente me malinterpreta", dijo el cantante. "Eso es porque no me conoces en absoluto." El Jackson revelado aquí es el obsesivamente profesional que trabajó durante meses en el estudio de grabación de Jones y en casa con un "equipo B" de los músicos más importantes estableciendo las pistas de demostración. Él ejercitó su deslizamiento, sus pasos de baile con el graduado de Soul Train Jeffrey Daniel y el miembro del reparto de A Chorus Line, Gregg Burge. Él estudió minuciosamente las películas de baile de Fred Astaire, Gene Kelly y Bob Fosse,  escribiendo una nota para sí mismo: "Estudia a los grandes y conviértete en más grande" Un rompedor de récords y reglas, Jackson también perfeccionó y mejoró en un siglo la canción americana y la danza. |
| "I feel rejuvenated," Michael Jackson said of his Bad album, "a jubilation." Bad 25 is an intimate view of a performer at his peak in the intense splendor of creativity. The movie ends with a magnificent rendition of "The Man in the Mirror" at Wembley Stadium in June 1988. Exhausted and exhausting, he gives his fans his unique all as singer, dancer, charismatic showman. | "Me siento rejuvenecido", dijo Michael Jackson sobre su álbum BAD, "una alegría." Bad 25 es una visión íntima a un artista en su mejor momento en el esplendor de intensa creatividad. La película termina con una interpretación magnífica de "The Man in the Mirror" en el estadio de Wembley en junio de 1988. Exhausto y agotado, le da a sus fans su lado único en todo como cantante, bailarín, hombre del espectáculo carismático. |
.
Fuente/Source
.
***************
***************
.
.
.
***********
***********
.
| | |
| --- | --- |
| Documentary pays tribute to Jackson's genius | Documental rinde homenaje al genio de Jackson |
| Aug 31, 9:18 PM EDT | 31 de agosto, 9:18 PM EDT |
| By COLLEEN BARRY | Por COLLEEN BARRY |
| Associated Press | Associated Press |
| VENICE, Italy (AP) — Michael Jackson is bathed in light, his arms outstretched and head back, as if crucified, at the end of Spike Lee's documentary "Bad 25" – a fitting image for the late pop legend who to some extent basked in fame, but was also clearly tormented by it. | VENECIA, Italia (AP) – Michael Jackson está bañado de luz, con los brazos extendidos y la cabeza hacia atrás, como si estuviera crucificado, al final del documental de Spike Lee "Bad 25" – una imagen apropiada para la leyenda del pop que hasta cierto punto disfrutaba de la fama, sino que también fue claramente estuvo atormentado por ella. |
| Lee calls the documentary "a love letter" to Jackson. It made its Venice debut on Friday, the 25th anniversary of the blockbuster album's release. | Lee llama el documental "una carta de amor" a Jackson. Hizo su debut en Venecia el viernes en el 25 aniversario del lanzamiento del mega exitoso álbum |
| "I think it's amazing that here we are in Venice for the world premiere of "Bad25″ on the exact date 25 years ago the album was released," Lee told a group of journalists ahead of the premiere. | "Creo que es increíble que aquí estamos en Venecia para el estreno mundial de "Bad25 "en la fecha exacta de hace 25 años del lanzamiento del álbum", dijo Lee a un grupo de periodistas antes del estreno. |
| Lee was commissioned by Sony and Epic records to make a documentary for the anniversary, gathering interviews with collaborators on the album: dancers, choreographers, song writers, short film directors, back-up singers, sound technicians and friends. | Lee fue comisionado por Sony y Epic Records para hacer un documental con motivo del aniversario, recopilando entrevistas con los colaboradores del disco: bailarines, coreógrafos, compositores, directores de cortometrajes, cantantes de respaldo, técnicos de sonido y amigos. |
| '"Bad' has been overlooked because it is the album that immediately came after Thriller, which is the best selling album of all time," Lee said. "Also 'Bad' was when Michael really started to flex his muscles creatively. He wrote nine of the 11 songs." | "Bad" ha sido pasada por alto porque es el disco que vino inmediatamente después de Thriller, que es el álbum más vendido de todos los tiempos ", dijo Lee. "También 'Bad' fue cuando Michael realmente comenzó a flexionar sus músculos de manera creativa. Él escribió nueve de las 11 canciones". |
| The collage of recollections lifts the lid off mysteries like who was Annie, as in 'Annie are you O.K.' in "Smooth Criminal" (Annie is the name of all CPR dummies) and why Jackson sings "Shamon" on the "Bad" title track (a tribute to blues singer Mavis Staples.) | El collage de recuerdos levanta la tapa de misterios como quien era Annie, como si 'Annie está OK' en "Smooth Criminal" (Annie es el nombre de todos los maniquíes de RCP) y por qué Jackson canta "Shamon" en la canción "Bad" del título (un tributo al cantante de blues Mavis Staples.) |
| Jackson, we learn, also never used the term "music videos." They were short films, and Martin Scorsese comments on "Bad," which he directed. Shot in Harlem and a Brooklyn subway station in New York City, it marked Wesley Snipes' film debut and was designed to give Jackson street cred. | Con Jackson, aprendemos, que él nunca utilizó el término "videos musicales". Eran corto metrajes, y los comentarios Martin Scorsese sobre "Bad", que él dirigió. Filmado en Harlem y una estación de metro de Brooklyn en la Ciudad de Nueva York, que marcó el debut de Wesley Snipes en películas y fue diseñado para dar a Jackson credibilidad. |
| Lee said he was drawn to the project because of its focus on the music, and away from the media frenzy that surrounded him, the perceived eccentricities and misconceptions. | Lee dijo que se sintió atraído por el proyecto debido a su enfoque en la música, y lejos del frenesí de los medios que le rodeaban, las excentricidades percibidas y conceptos erróneos. |
| "Let's focus on his genius. Let's focus on his music. Forget the other stuff," Lee said. | "Vamos a centrarnos en su genio. Vamos a centrarnos en su música. Olvídate de las otras cosas", dijo Lee. |
| The documentary argues strongly for Jackson's genius, highlighting his achievements as a singer, songwriter, producer, performer, dancer and fashion trendsetter. | El documental argumenta firmemente por el genio de Jackson, destacando sus logros como cantante, compositor, productor, actor, bailarín y tendencias de la moda. |
| And it documents his attention to detail and hard work. Lee discovers a sketch Jackson made of the costume for "Smooth Criminal," including the armband and a handwritten note to himself: "Study the Greats to become great." His vocal coach talked about Jackson's range of more than 3 1/2 octaves, and dancers about how he worked into the night to come up with fresh moves for videos starting with "Bad." | Y documenta su atención al detalle y el trabajo duro. Lee descubre un boceto que Jackson hecho del traje de "Smooth Criminal", incluyendo el brazalete y una nota manuscrita a sí mismo: "Estudia a los Grandes y conviértete en más grande" Su entrenador vocal habla sobre la gama de Jackson de más de 3 1/2 octavas y bailarines sobre cómo trabajaba durante la noche para llegar a movimientos frescos de videos que comienzan con "Bad". |
| "For me there were no discoveries, it reaffirmed what I thought I knew. He worked hard. Michael busted his ass," Lee said. | "Para mí no hubo descubrimientos, reafirmó lo que pensaba que sabía. Trabajó duro. Michael se rompió el culo", dijo Lee. |
| "Bad25," shown out of competition in Venice, will be released in February, along with another hour of behind-the-scenes footage. | "Bad25", presentado fuera de concurso en Venecia, se estrenará en febrero, junto con otra hora de detrás de las escenas de metraje. |
| The documentary's final image is taken from film of his famous July 16, 1998 concert at Wembley Stadium in England of the "Bad Tour." Jackson finishes singing "Man in the Mirror" – a song that has become posthumously Jackson's unofficial anthem – and throws back his arms and head in a final flourish. | La Imagen final del documental se ha tomado de la filmación de su famoso concierto del 16 de julio 1998 en el estadio de Wembley en Inglaterra de la gira "Bad". Jackson termina de cantar "Man in the Mirror" – una canción que se ha convertido póstumamente en himno no oficial de Jackson – y echa hacia atrás los brazos y la cabeza en un broche de oro. |
| "I am not going to say Michael was Jesus Christ," Lee told a news conference at the festival. "But if you look at the performance, he was somewhere else. That was one of the greatest performances, ever, ever, ever. He is not of this world." | "Yo no voy a decir Michael fue Jesucristo", dijo Lee en una conferencia de prensa en el festival. "Pero si nos fijamos en la actuación, él estaba en otra parte. Esa fue una de las mejores actuaciones, de siempre, siempre, siempre, Él no es de este mundo". |
.
Fuente/Source
.
**************
**************
.
| | |
| --- | --- |
| Lee brings Michael Jackson "Bad" magic to big screen | Lee trae la magia de "BAD" de Michael Jackson a la pantalla grande |
| By Mike Collett-White | Por Mike Collett-White |
| VENICE | Fri Aug 31, 2012 10:21am EDT | VENECIA | Vie 31 de agosto 2012 10:21 am EDT |
| Reuters) – Spike Lee's film about the making of Michael Jackson's 1987 album "Bad" may border on hagiography at times, but live footage and the singer's attention to detail when at the peak of his powers are a reminder of why he remains the "King of Pop". | (Reuters) – La película de Spike Lee sobre el cómo se hizo el álbum "BAD" de 1987 de Michael Jackson puede rayar en la hagiografía (Historia de las vidas de los santos) a veces, pero tomas en vivo y la atención del cantante a los detalles cuando en la cima de sus poderes son un recordatorio de por qué sigue siendo el "Rey del Pop". |
| The two-hour documentary called "Bad 25", which has its world premiere at the Venice film festival on Friday, is a familiar mix of talking heads – choreographers, producers and stars – and film of concerts, rehearsals and music videos. | El documental de dos horas llamado "Bad 25", que tiene su estreno mundial en el Festival de Cine de Venecia el viernes, es una mezcla familiar de líderes  parlantes – coreógrafos, productores y estrellas – y película de conciertos, ensayos y videos musicales. |
| Released to coincide with the 25th anniversary of Jackson's acclaimed follow-up to "Thriller", Lee provides few surprises for Jackson aficionados, but paints a picture of a genius at work who cared about every step of the production process. | La fecha de lanzamiento coincide con el 25 aniversario del aclamado álbum de Jackson de seguimiento de "Thriller", Lee ofrece algunas sorpresas para los admiradores de Jackson, pero pinta un cuadro de un genio en el trabajo que se preocupaba por cada paso del proceso de producción. |
| "I think that it was too many years we've … concentrated on stuff about Michael Jackson that had nothing to do with the music," Lee told reporters, 25 years to the day after Bad hit the shelves. | "Creo que fue hace muchos años que nos hemos concentrado en  cosas sobre Michael Jackson que no tenían nada que ver con la música", dijo Lee a los periodistas, 25 años después del día en que Bad llegó a las tiendas. |
| The documentary, which Lee called his "love letter" to Jackson, has the backing both of the singer's estate and his record label, giving Lee access to many of the key players in the making of what is regarded as a milestone album. | El documental, que Lee llama su "carta de amor" a Jackson, cuenta con el respaldo tanto de la Herencia del cantante y como de su compañía discográfica, quienes dieron acceso a Lee a muchos de los actores clave en la realización de lo que se considera un álbum hito |
| "It was a chance to really dig into his creative process," he added. | "Fue una oportunidad de excavar realmente en su proceso creativo", agregó. |
| "We all are blessed with the final work, but it's rare that you get to see how something is put together. We just see the final product. We don't see the blood, sweat and tears, all the work that goes into how the masters work." | "Todos somos bendecidos con el trabajo final, pero es raro que tú llegues a ver como algo se juntó.  Nosotros sólo vemos el producto final. Nosotros no vemos la sangre, sudor y lágrimas, todo el trabajo que lleva el cómo los maestros trabajan" |
| Among the novelties is footage taken by Jackson himself, using a handheld camera, of Siedah Garrett singing "Man in the Mirror", the song she co-wrote for the star, a cappella save for an off-camera clicking of fingers laying down the beat. | Entre las novedades están imágenes tomadas por el propio Jackson, usando una cámara de mano, de Siedah Garrett cantando "Man in the Mirror", la canción fue co-escrita por la estrella, una versión de  una cappella fuera de cámara chasquido de los dedos, haciendo los ritmos. |
| There are also small yet enlightening insights and hints as to Jackson's true character, be it his interest in women, competitive spirit, professional drive or obsession over the smallest riff and dance step. | También hay ideas pequeñas pero esclarecedoras y sugerencias en cuanto a la verdadera personalidad de Jackson, ya sea de su interés por las mujeres, el espíritu competitivo, unidad profesional o la obsesión por el más pequeño riff y paso de baile. |
| Garrett, for example, recalls how Jackson playfully threw popcorn at her as she tried to record "I Just Can't Stop Loving You", earning her, but not Jackson, a sharp rebuke from the onlooking producer Quincy Jones. | Garrett, por ejemplo, recuerda cómo Jackson le tiró juguetonamente palomitas de maíz mientras ella trataba de grabar "I Just Cant Stop Loving You", ganando ella, pero no Jackson, una fuerte reprimenda del observador productor Quincy Jones. |
| "NOT OF THIS WORLD" | "NO ES DE ESTE MUNDO" |
| Sheryl Crow said she was often asked whether Jackson became aroused when they performed a raunchy rendition of the song on his record-breaking "Bad" tour. She did not provide an answer. | Sheryl Crow dijo que se le ha preguntó muchas veces si Jackson se excitaba cuando se realizaba una interpretación provocativa de una canción en su gira rompe récords "Bad" tour. Ella no dio una respuesta. |
| Actress Tatiana Thumbtzen speculated that mint on the singer's breath suggested he may have been prepared for a kiss at the end of the "The Way You Make Me Feel" video, despite strict instructions only to embrace the singer. | La actriz Tatiana Thumbtzen especuló que la menta en el aliento del cantante le sugirió que puede haber sido preparada para un beso al final del video "The Way You Make Me Feel", a pesar de estrictas instrucciones sólo abrazar al cantante. |
| Lawyer John Branca, who administers Jackson's estate following his death aged 50 in 2009, recalled a meeting Jackson arranged with his arch-rival Prince. | El abogado John Branca, quien administra la Herencia de Jackson después de su muerte a los 50 años en 2009, recordó una reunión que Jackson arregló con su archi-rival Prince. |
| "It was not a happy meeting," he said, adding Prince had brought along a "voodoo box" which Jackson feared meant he was trying to cast a spell on him. | "No fue una reunión feliz", él dijo, y agregó que Prince había llevado una "caja de vudú" que Jackson temía significara que él estaba tratando de lanzar un hechizo sobre él. |
| That rivalry was part of a competitive streak in Jackson that drove him to try to top the sensational success of his 1982 album "Thriller", still the best-selling album of all time, with Bad five years later. | Esa rivalidad era parte de una vena competitiva en Jackson que le llevó a intentar superar el éxito sensacional de su álbum de 1982 "Thriller", que sigue siendo el álbum más vendido de todos los tiempos, con BAD cinco años después. |
| He even scrawled "100,000,000" on his mirror to remind him of his target. While industry estimates vary widely, Thriller is estimated to have sold between 60-110 million copies worldwide, while Bad went on to sell 30-45 million. | Incluso garabateó "100.000.000" en su espejo para recordarse su objetivo. Mientras que las estimaciones de la industria varían ampliamente, Thriller se estima que ha vendido entre 60 hasta 110 millones de copias en todo el mundo, mientras que BAD vendió entre 30 a 45 millones. |
| Nothing, it seemed, was too trival. In one sequence, Jackson comically re-enacts exactly how he wants two animated characters who feature in a commercial to behave. | Nada, al parecer, era demasiado trival. En una secuencia, cómicamente Jackson revive exactamente cómo quería que dos personajes animados quienes aparecerían en un comercial se comportaran. |
| On a more serious level, Lee explores how Jackson's Afro-American roots were important to him, despite his gradually transforming facial features that made him appear more Caucasian. | En un plano más serio, Lee explora cómo las raíces afro-americanas de Jackson eran importantes para él, a pesar de su transformación gradual de rasgos faciales que le hacían parecer más caucásico. |
| Several interviewees could not contain their tears as they remembered when they heard of Jackson's passing, and several voiced their conviction at the time that it was not true. | Varios de los entrevistados no pudieron contener las lágrimas al recordar cuando se enteraron de la muerte de Jackson, y varios expresaron su convicción en el momento de que no era cierto. |
| Crow was among those who struggled to explain Jackson's talent. "The molecules changed in the room," she said of his presence. "He changed the molecules." | Crow fue una de las que lucharon para explicar el talento de Jackson. "Las moléculas cambiaban en la habitación", ella dijo sobre su presencia. "Él cambiaba las moléculas". |
| Near the end of Bad 25 there is a memorable live performance of "Man in the Mirror", after which Jackson holds his hands aloft to form the shape of a cross. | Cerca del final de Bad 25 hay una memorable actuación en directo de "Man in the Mirror", después de que Jackson mantiene las manos en alto para formar la forma de una cruz. |
| "Michael's not here to answer that. I cannot say he's trying to be Jesus Christ," Lee said in answer to a reporter's question. | "Michael no está aquí para responder a eso. No puedo decir que él está tratando de ser Jesucristo", dijo Lee en respuesta a la pregunta de un reportero. |
| "I'm not going to say that Michael was saying he was Jesus Christ, but you look at that performance – he's somewhere else. That's one of the greatest performances ever. You see the way Michael's singing that song, he is not of this world." | "Yo no voy a decir que Michael estaba diciendo que él era Jesucristo, pero cuando tú miras esa actuación, él está en otro lado. Esa es una de las mejores actuaciones de siempre. Tú ves la manera en la que Michael está cantando esa canción, él no es de este mundo". |
|  (Editing by Steve Addison) | (Editado por Steve Addison) |
.
Fuente/Source
.
.
****************
****************
.
Michael Jackson Glorified in Spike Lee Movie in Venice
Michael Jackson Glorificado en película de Spike Lee en Venecia
Bloomberg NewsBy Farah Nayeri on August 31, 2012
Bloomberg News
Por Farah Nayeri en 31 de agosto 2012
Twenty-five years to the day after Michael Jackson released his chart-topping album "Bad," director Spike Lee rolled out his documentary on the making of the album at the Venice Film Festival.
Veinticinco años después del día en que Michael Jackson lanzó su exitoso álbum "BAD", el director Spike Lee rodó su documental sobre la grabación del álbum en el Festival de Cine de Venecia.
"Bad 25" features informal footage shot by Jackson himself and recordings of his vocal exercises. There are also interviews with personalities he influenced — including Mariah Carey, Cee Lo Green, Kanye West and even Justin Bieber.
"BAD 25" contiene tomas informales filmadas por el mismo Jackson y grabaciones de sus ejercicios vocales. También hay entrevistas con personalidades a las que él influenció – incluyendo Mariah Carey, Cee Lo Green, Kanye West y hasta Justin Bieber.
Lee's two-hour artistic tribute completely dismisses the tabloid reports of Jackson's  (…) personal life(…)
Las dos horas de tributo artístico de Lee rechaza completamente los informes sensacionalistas sobre la (…) vida personal de Jackson (…)
"It's like saying there's a cobweb on the ceiling of the Sistine Chapel," says producer-composer Quincy Jones early on in "Bad 25."
"Es como decir que hay una tela de araña en el techo de la Capilla Sixtina," dice el productor y compositor Quincy Jones al principio de "BAD 25".
The documentary gives a blow-by-blow account of how the "Bad" album came about, focusing on the music videos for a more visual moviegoer experience.
El documental da cuenta golpe-por-golpe de cómo el álbum "BAD"surgió, centrándose en los videos musicales para una experiencia visual más cinéfila.
Director Martin Scorsese is interviewed at the start about his 18-minute video for the "Bad" single, shot in the New York subway. Scorsese confesses that Michael's signature crotch touch was a surprise to him — and kept it in because it didn't look inappropriate.
El director Martin Scorsese es entrevistado en el comienzo de su vídeo de 18 minutos para el sencillo "BAD" filmado en el metro de Nueva York. Scorsese confiesa que el toque de firma de Michael de su entrepierna fue una sorpresa para él – y que lo mantuvo porque no parecía inapropiado.
We hear of Jackson's rivalry with Prince, and their frosty meeting, at which Prince appeared with a voodoo box that Jackson was convinced would put a spell on him.
Se habla de la rivalidad entre Prince y Jackson, y su reunión helada, en la que Prince apareció con una caja de vudú que Jackson estaba convencido de que pondría un hechizo sobre él.
Beating 'Thriller'
Vencer a 'Thriller'
Jackson had a motivational message of "100 million albums" which he inscribed in a mirror even before "Bad" came out, so determined was he to match and exceed the popularity of the previous album "Thriller." His record producer also notes that Jackson had a business mind and would count his royalties.
Jackson tenía un mensaje motivacional de "100 millones de discos", que él inscribió en un espejo incluso antes de "BAD" saliera, tan decidido estaba él a igualar y superar la popularidad del anterior álbum "Thriller". Su productor también hace notar que Jackson tenía una mente empresarial y podría contaría sus regalías por derechos de autor.
Many segments are devoted to Jackson's dance moves and choreographies. The film shows his well-publicized admiration of Fred Astaire and classic musicals, as well as of the more recent "All That Jazz."
Muchos segmentos están dedicados a movimientos de baile de Jackson y coreografías. La película muestra su bien publicitada admiración por Fred Astaire y los musicales clásicos, así como el más reciente "All That Jazz".
The movie ends with participants describing where they were when they heard of his death. The final shots, taken at the end of a mega-concert, are of Jackson saluting the audience with his arms stretched out in a crucifixion-like position.
La película termina con los participantes describiendo dónde estaban cuando se enteraron de su muerte. Las tomas finales, tomadas al final de un mega-concierto, son de Jackson saludando al público con sus brazos extendidos en una posición similar a la crucifixión.
"For me, this is a love letter to Michael," said Lee, in a "Bad" T-shirt and a black beret, at a Venice news conference after the screening.
"Para mí, esta es una carta de amor a Michael", dijo Lee, con una camiseta de "BAD" y una boina negra, en rueda de prensa tras la proyección de Venecia.
Lee said he and Jackson were close in age, and he related to the pop star: "I had the afro, the look, but singing and dancing: that's where it stopped."
Lee dijo que él y Jackson estaban cercanos en edad, y en relación con la estrella del pop: "Tuve el afro, el look, pero el canto y el baile no. Ahí es donde esto se detiene"
One of the main reasons he did the film was because its producers "wanted to just concentrate on the music," he said,
Una de las principales razones por las que hizo la película se debió a que sus productores "querían que me concentrara en la música", dijo,
Lee heard of Jackson's death while speaking at a Cannes conference. He flew back to the U.S. and was "out of it" for months, he said. Realizing he only had one Jackson album on his digital player, Lee bought every CD the star recorded and for the next year only played his music.
Lee se enteró de la muerte de Jackson, mientras hablaba en una conferencia de Cannes. Regresó a los EE.UU. y estuvo "fuera de mi" durante meses, dijo. Al darse cuenta de que sólo tenía un álbum de Jackson en su reproductor digital, Lee compró cada CD grabado de la estrella y por el próximo año sólo tocó su música.
The 69th Venice Film Festival continues through Sept. 8. Information: http://www.labiennale.org/en/cinema/
El 69 Festival de Cine de Venecia continúa hasta el 8 de septiembre. Más Información en: http://www.labiennale.org/en/cinema/
(…)
(…)
To contact the writer on the story: Farah Nayeri in Venice at farahn@bloomberg.net.
Contactar al autor de la historia: Farah Nayeri en Venecia farahn@bloomberg.net.
To contact the editor responsible for this story: Manuela Hoelterhoff at mhoelterhoff@bloomberg.net.
Contactar con el editor responsable de esta historia: Manuela Hoelterhoff en mhoelterhoff@bloomberg.net.
.
Fuente/Source
.
.
***********
***********
.
Spike Lee lleva al Festival de Venecia su "carta de amor" a Michael Jackson
31 de agosto de 2012 • 09:37
El cineasta estadounidense Spike Lee presentó hoy en el 69 Festival Internacional de Cine de Venecia su documental "Bad 25", toda una "carta de amor" al fallecido "rey del pop" Michael Jackson con motivo del vigésimo quinto aniversario de la publicación del álbum "Bad".
El documental, que se exhibe en "la Mostra" fuera de concurso, repasa en unas dos horas a través de los distintos vídeos musicales y conciertos los principales éxitos que supusieron los temas de ese disco, como "Bad", "The Way You Make Me Feel", "I Just Can't Stop Loving You", "Dirty Diana", "Smooth Criminal" o "Man In The Mirror.
"Lo que Michael Jackson significa para mí está escrito aquí, está incorporado en este documental. Esto es una carta de amor a Michael Jackson. Crecí con él. En la época en la que formaba parte de Jackson Five, yo quería ser como Michael Jackson. Tenía el pelo a lo afro, pero no podía cantar ni bailar", afirmó el cineasta durante la rueda de prensa de presentación hoy en Venecia.
"Para mí el documental ha supuesto además el hecho de poder trabajar al final con la gente a la que siempre he seguido. Para mí ha sido una confirmación de cuán duro trabajaba Michael Jackson. Quienes son maestros en su terreno trabajan y trabajan", agregó.
Con entrevistas de la época o recientes, Spike Lee, que participa por novena vez en "la Mostra", da voz en el documental a quienes colaboraron con Jackson en "Bad", desde el productor Quincy Jones hasta Martin Scorsese y Wesley Snipes, director y actor, respectivamente, del vídeo del tema homónimo.
Los cantantes Mariah Carey, Chris Brown, Kanye West e, incluso, el joven Justin Bieber son otros de los rostros de la música que homenajean en esta cinta al difunto "rey del pop", además del músico panameño Rubén Blades, quien realizó la versión en español de la letra del tema "I Just Can't Stop Loving You", traducida como "Todo mi amor eres tú".
"Uno de los motivos por los que quería hacer el documental era que, cuando me ofrecieron este proyecto desde la discográfica Sony, ellos querían que me concentrase solo en la música. Durante muchos años -y me incluyo- nos hemos concentrado solo en la música y no en Michael Jackson. Tenemos que centrarnos ahora en el genio que era", comentó Spike Lee.
"No hemos visto la sangre, el sudor que estaba detrás. Esta era una oportunidad de poder descubrirlo, hablando con músicos, hablando con casas discográficas. Hay que recordar que 'Bad' sucedía a 'Thriller', que aún hoy es el álbum más vendido de la historia. Imaginad la presión de Michael por repetir este éxito", añadió.
El cineasta estadounidense aseguró que el "rey del pop" no se sentaba simplemente y se ponía a crear, sino que estudiaba a grandes artistas de otras disciplinas como la fotografía y la danza, y lo que aprendía de ellos lo incorporaba a su trabajo.
"Michael tenía un talento musical innato. A menudo creaba canciones solo cantando en una grabadora. Tocaba bastante bien el piano y tenía la habilidad de crear todos los aspectos de una canción, aunque no sabía tocar todos los instrumentos", apuntó.
A través de las numerosas anécdotas que surgieron durante las grabaciones de los vídeos y los temas del álbum "Bad", Spike Lee construye en este documental un discurso narrativo basado en la peculiaridad y originalidad de Jackson y que concluye con la canción "Man In The Mirror" como banda sonora de su muerte en 2009.
"'Man In The Mirror' se convirtió en un himno para él, como cuando asesinaron a John Lennon, que la gente cantaba 'Imagine'. Cuando Michael Jackson murió, la gente cantaba 'Man In The Mirror'", dijo el cineasta, quien incidió en que los hijos del cantante están deseando ver este documental para aprender aun más sobre su padre.
Spike Lee recibirá hoy además en "la Mostra" el premio "Jaeger-LeCoultre Gloria para el cineasta" por ser, según la organización del Festival de Venecia, un "espíritu creativo y combativo, autor de películas audaces y mordaces, con frecuencia imprevisibles y provocativas en el mejor sentido de la palabra".
.
Fuente
.
.
Recopilación de información y traducción al español  realizada por Gisela F., para tributomj.com Se autoriza la reproducción de esta entrada en otros sitios,siempre y cuando se agregue 1) la (s) fuente (s) original (es) de la información 2) El vínculo a esta entrada de este blog. Todas las fuentes.  EXCEPCIONES: No autorizamos que nuestro trabajo (Investigación, recopilación, traducción, etc.) se reproduzca en sitios dedicados a temas de teorías conspirativas y todas sus ramificaciones, o sitios dedicados a "la falsa muerte" DE NINGUNA MANERA AUTORIZAMOS SE NOS INVOLUCRE O RELACIONE CON ESOS SITIOS ENGAÑOSOS (Def.).
.
URL corta de esta entrada
.
Read More