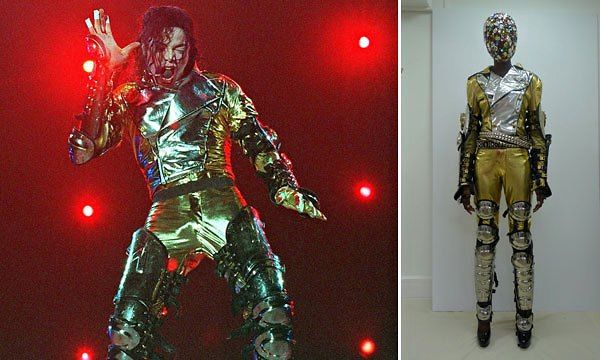 .
"El sombrerero Philip Treacy creó la máscara dramática para el traje de "hombre del espacio" con cristales de Swarovski de la gira de Michael Jackson de 1996 HIStory. El Sr. Treacy el domingo mostró una serie de sombreros y tocados inspirados en trajes de escenario del artista legendario."
.
.
El domingo en Londres hubo un desfile de modas un tanto peculiar, ya que en el desfile mostraron los trajes de Michael, los que Michael Bush va a subastar en diciembre y que han estado en exhibición en diferentes países, por ejemplo en Chile, con sombreros o tocados diseñados por Philip Treacy….   Les dejo esta nota para su conocimiento.
.
.
Philip Treacy LFW catwalk show with Michael Jackson outfits
.
.
.
.
.
Fuente o ver este video en/Source
.
.
.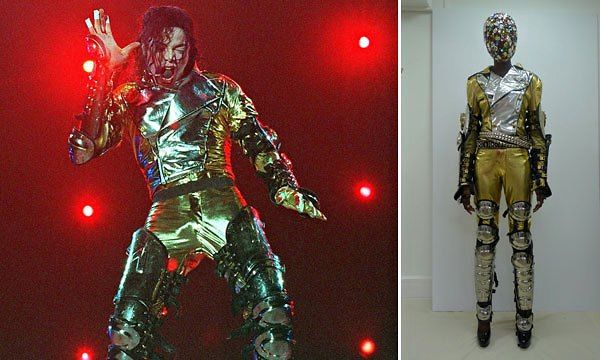 .
| | |
| --- | --- |
| The milliner Philip Treacy created the dramatic mask atop the Swarovski crystal "spaceman" suit from Michael Jackson's 1996 History Tour. Mr. Treacy on Sunday showed a series of hats and headpieces inspired by the legendary performer's stage costumes. | El sombrerero Philip Treacy creó la máscara dramática para el traje de "hombre del espacio" con cristales de Swarovski de la gira de Michael Jackson de 1996 HIStory. El Sr. Treacy el domingo mostró una serie de sombreros y tocados inspirados en trajes de escenario del artista legendario. |
.
.
.
.
A Fashion Week Homage to Michael Jackson's Thriller
Semana de la Moda Homenaje Emocionante a Michael Jackson
Treacy's Thriller
Emoción de Treacy
By SUZY MENKESPublished: September 16, 2012
Por Suzy Menkes
Publicado: 16 de septiembre 2012
LONDON — Just the idea was a "Thriller": linking Michael Jackson's stage wardrobe, from the military buttoned jackets to his tiny-waisted trousers, with Philip Treacy, the milliner with an imagination as big as the late artist's voice.
LONDRES – La sola idea fue "Emocionante": la vinculación de vestuario de escenario de Michael Jackson, de las chaquetas abotonadas militares a su diminuto pantalón de talle, con Philip Treacy, el sombrerero con una imaginación tan grande como la voz del fallecido artista.
Mr. Treacy's challenge was to put together, on female models chosen for their African descent, the outfits from Mr. Jackson's co-designers, Michael Bush and Dennis Tompkins — and then create for each ensemble a hat to correspond in spirit or to tell the Michael Jackson story.
El reto del Sr. Treacy consistía en reunir, las modelos femeninas elegidas por su ascendencia africana, los trajes de los co-diseñadores del señor Jacksons, Michael Bush y Dennis Tompkins – y luego crear para cada conjunto un sombrero que correspondiera en espíritu o que contara la historia de Michael Jackson
That could mean a curving metallic swoop of a headdress or hats decorated with childish playground pieces, as if from the famous Neverland ranch.
Eso podría significar una arremetida curva metálica de un tocado o sombrero decorado con piezas de juegos infantiles, como los del famoso rancho Neverland.
The show, prepared in the utmost secrecy for Sunday night, is to be considered a prelude to the sale of the Tompkins and Bush collection, scheduled by Julien's Auctions in Beverly Hills, California, on Dec. 2.
El programa, preparado en el más absoluto secreto para la noche del domingo, debe ser considerado como un preludio a la venta de la colección de Tompkins y Bush, prevista por Julien Auctions en Beverly Hills, California, el 2 de diciembre.
An emotional Mr. Treacy spoke of his first contact with the auction house when he went with his muse, the late Isabella Blow, to buy Marilyn Monroe's false eyelashes.
Un emocionado señor Treacy habló de su primer contacto con la casa de subastas cuando él fue con su musa, la fallecida Isabella Blow, para comprar las pestañas postizas Marilyn Monroe.
In a memorial to Ms. Blow and to the late Alexander McQueen, the famous sparkling Michael Jackson glove is to appear from under a veil of black hanging leaves, representing a tribute to his friends who have died. A headpiece in the shape of a ship with billowing sails, rigging and masts — as well as Swarovski sparkles — was created because the last hat that Mr. McQueen asked for before his death was an ivory ship.
En un memorial a la Sra. Blow y al fallecido Alexander McQueen, el famoso brillante guante de Michael Jackson va a aparecer de debajo de un velo negro de hojas que cuelgan, lo que representa un homenaje a sus amigos que han muerto. Un casco con la forma de un barco con las velas hinchadas, aparejos y mástiles -, así como destellos de Swarovski – fue creado debido a que el último sombrero que el Sr. McQueen pidió antes de su muerte fue una nave de marfil.
"Living with these clothes in a vault has given me emotional energy and I believe that the hats are a futuristic way of showing the most beautiful clothes I have ever seen," Mr. Treacy said. "I was thinking of Napoléon's words 'with baubles that men are led.' These clothes were designed to fill a stadium of 80,000 people. Yet they are made like haute couture."
"Vivir con esta ropa en una bóveda me ha dado energía emocional y creo que los sombreros son una forma futurista de mostrar la ropa más bonita que he visto jamás", dijo Treacy. "Yo estaba pensando en las palabras de Napoleón" con adornos que los hombres son guiados. Estas prendas fueron diseñadas para llenar un estadio de 80.000 personas. Sin embargo, estos se hicieron como la alta costura".
Mr. Bush, whose partner passed away last year, was behind the theatrical use of metallic martial decoration — actually made from gilded plastic. The stage wear designer is scheduled to publish his book, "The King of Style: Dressing Michael Jackson," with Insight Editions on Oct. 30.
Sr. Bush, cuyo compañero falleció el año pasado, estuvo detrás del uso de la decoración teatral marcial metálico – en realidad hecha de plástico dorado. El diseñador de vestuario de escenario tiene prevista la publicación de su libro, "The King of Style: Dressing Michael Jackson", con Insight Editions el 30 de octubre.
The items destined for the auction, which have been exhibited in Chile and in Ireland, include Jackson's Captain EO shirt, the black Spandex outfit from his "Scream" video and the breakaway suit he wore during his BAD tour in the late 1980s. The auction house says a portion of the proceeds will benefit Guide Dogs of America and the Nathan Adelson Hospice in Las Vegas.
Los objetos destinados a subasta, se han exhibido en Chile y en Irlanda, incluyen la camisa del Capitán EO de Jackson, el traje spandex negro del video "Scream" y el traje disidente que usó durante su gira BAD a finales de 1980. La casa de subastas dice que una parte de los beneficios se destinarán a perros guía de Estados Unidos y el hospicio Nathan Adelson en Las Vegas.
These are the clothes that inspired Mr. Treacy to relive his own emotions about Michael Jackson's life and music — and to present them to the world not as a static wardrobe but as vibrant artistic treasures.
Estas son las prendas que inspiraron al Sr. Treacy para volver a vivir sus propias emociones sobre la vida de Michael Jackson y su música – y presentarlas al mundo no como un armario estático, sino como vibrantes tesoros artísticos.
"I find it very humbling how the world has embraced this work as an art form," said Mr. Bush, who came to London from Los Angeles for the show Sunday.
"Lo veo con humildad cómo el mundo ha abrazado este trabajo como una forma de arte", dijo Bush, quien llegó a Londres desde Los Angeles para el show del Domingo
"The fact that Michael Jackson had it on will draw people, but I saw the look in Philip's eyes at the detail. We made handmade outfits, like Philip is hands-on with a piece of metal, fabric or a feather," he added.
"El hecho de que Michael Jackson lo tuviera atraía a la gente, pero vi la mirada en los ojos de Philip en el detalle. Realizamos trajes hechos a mano, al igual que Philip lo hace con un pedazo de metal, tela o una pluma", agregó.
The piece with the longest history is not the red "Thriller" jacket but the jacket with police badges. It has been 25 years since it was first seen on the BAD tour.
La pieza con la historia más larga no es la chaqueta roja de "Thriller", sino la chaqueta chaqueta con insignias de la policía. Han pasado 25 años desde que fue vista por primera vez en la gira BAD.
Mr. Bush explained that his "boss," as he called Mr. Jackson, took a very close interest in all the outfits, even ordering bespoke clothes for Bubbles, his pet chimpanzee.
Bush explicó que su "jefe", como le llamaba al señor Jackson, tomó un gran interés en todos los trajes, e incluso dispuso de ropa a medida para su chimpancé Bubbles
The performing artist would surely have appreciated the artistic work of Mr. Treacy, who made each headpiece individually with a similar desire for perfection.
El artista seguramente habría apreciado la obra artística del señor Treacy, que hizo cada casco de forma individual con el mismo deseo por la perfección.
"It's the most exciting show I have ever done. It is a gift to have the models wearing the clothes — Michael Jackson did better than anyone the sense of the extraordinary," said the milliner.
"Es el espectáculo más emocionante que he hecho. Es un regalo tener a las modelos luciendo la ropa – Michael Jackson lo hizo mejor que nadie el sentido de lo extraordinario", dijo el modista
While Mr. Bush said before the show at the Royal Courts of Justice in London started: "I feel that I am going to touch the sky."
Mientras que el Sr. Bush dijo antes de que el espectáculo en las Cortes Reales de Justicia en Londres comenzara: "Siento que voy a tocar el cielo."
A version of this article appeared in print on September 17, 2012, in The International Herald Tribune.
Una versión de este artículo apareció impreso el 17 de septiembre de 2012, en The International Herald Tribune.
.
Fuente/Source
.
.
.
Darren and Martin with @ladygaga as she's wearing Michael Jackson's jacket and Philip Treacy's hat! pic.twitter.com/qE66JkK6

— Juliens Auctions (@JuliensAuctions) September 16, 2012
.
.
.
.
Recopilación de información y traducción al español  realizada por Gisela F., para tributomj.com Se autoriza la reproducción de esta entrada en otros sitios,siempre y cuando se agregue 1) la (s) fuente (s) original (es) de la información 2) El vínculo a esta entrada de este blog. Todas las fuentes.  EXCEPCIONES: No autorizamos que nuestro trabajo (Investigación, recopilación, traducción, etc.) se reproduzca en sitios dedicados a temas de teorías conspirativas y todas sus ramificaciones, o sitios dedicados a "la falsa muerte" DE NINGUNA MANERA AUTORIZAMOS SE NOS INVOLUCRE O RELACIONE CON ESOS SITIOS ENGAÑOSOS (Def.).
.
URL corta de esta entrada
.
.
Read More