Comunicado de la herencia de Michael Jackson == Announcement From The Estate Of Michael Jackson
.
.
Announcement From The Estate Of Michael Jackson
Anuncio de la herencia de Michael Jackson
Hello!
¡Hola!
The Estate wants Michael's fans to know that a number of items that were in the possession of Michael Bush and Dennis Tompkins – currently part of the exhibition for Michael's book, The King of Style:  Dressing Michael Jackson – will NOT be sold in an upcoming December 2 auction.
La Herencia (Patrimonio, herederos) quiere que los fans de Michael sepan que una serie de elementos que se encontraban en poder de Michael Bush y Dennis Tompkins  –  actualmente parte de la exposición para el libro de Michael, The King of Style: Dressing Michael Jackson – (El Rey del Estilo, Vistiendo a Michael Jackson) NO se venderán en la subasta del próximo 02 de diciembre
Michael Bush agreed with the Estate that some of the most iconic pieces needed to be preserved as part of Michael's legacy and, following the conclusion of the exhibition, they will be delivered to the Estate.
Michael Bush estuvo de acuerdo con la Herencia de que algunas de las piezas más emblemáticas necesitaban ser preservadas como parte del legado de Michael y, tras la conclusión de la exposición, serán entregadas a la Herencia.
Bush made this announcement on his Facebook page yesterday:
Bush hizo el anuncio en su página de Facebook ayer:
"Friends, I have been profoundly touched by the outpouring of love and admiration for Michael Jackson that I have been able to witness during the launch of the book King of Style: Dressing Michael Jackson.  The book features the many fashions of Michael Jackson that I had the great pleasure of working on or creating during my almost 25 years of working with the greatest entertainer of all time.  Although some of the items that Dennis and I have collected over the years will be auctioned by Julien's Auctions on Sunday, December 2nd at Julien's Auctions in Beverly Hills, I have decided to gift several of the costumes originally marked for auction to the Estate of Michael Jackson so that they can be preserved by the Estate as part of Michael's legacy for many years to come.

 

I recognize the historical significance of these costumes and even though some of them were personalized and gifted to me by Michael Jackson, I have been fortunate to have the opportunity to share these items with the fans with the recent exhibitions and some of the items are to be part of the permanent collection of the Estate." – Michael Bush, fashion designer and author of The King of Style: Dressing Michael Jackson.

"Amigos, he quedado profundamente conmovido por la efusión de amor y admiración por Michael Jackson que he podido presenciar durante el lanzamiento del libro King of Style: Dressing Michael Jackson.  El libro contiene las muchas modas de Michael Jackson en las que yo tuve el gran placer de trabajar en su creación en mis casi 25 años de trabajo con el mayor artista de todos los tiempos.  Aunque algunos de los artículos que Dennis y yo hemos recolectado en los últimos años serán subastadas por Julien's Auctions el domingo 2 de diciembre en Julien Auctions de Beverly Hills, he decidido regalar varios de los trajes originalmente marcados para la subasta a la Herencia de Michael Jackson para que puedan ser preservados por la Herencia como parte del legado de Michael durante muchos años por venir.

 

Yo reconozco la importancia histórica de estos trajes y aunque algunos de ellos fueron personalizados y regalados a mí por Michael Jackson, he tenido la suerte de tener la oportunidad de compartir estos artículos con los fans en las exposiciones recientes y algunos de los artículos formarán parte de la colección permanente de la Herencia"- Michael Bush, diseñador de modas y autor de The King of Style:. Dressing Michael Jackson.

If you want to read the full statement on his page, it can be seen here:
Si deseas leer la declaración completa en su página, puedes verla aquí:
.
facebook.com/michael.l.bush.35
.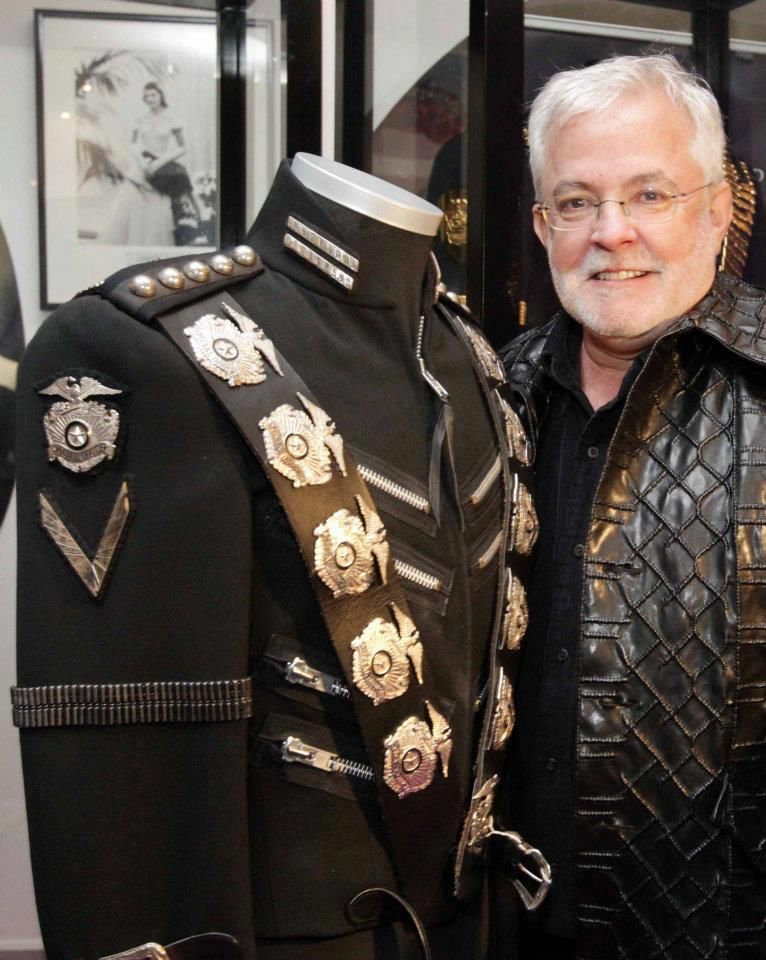 .
Fuente/Source
MJOnline

The Official Online Team of the Michael Jackson Estate™
Vía correo electrónico.
.
.
Hasta aquí el anuncio. Ahora mis comentarios:
.
Por cierto que me parece que existe cierta confusión sobre este vestuario. Debo aclararles que este vestuario concretamente NO está incluída en los objetos por los cuales Michael hizo esfuerzos por detener la subasta anterior. Estos vestiarios son OTROS objetos.
Lo digo porque he leído tonterías sobre que si Michael detuvo la subasta… Que si el Estate es quien está subastando las cosas… etc. etc.  Esto es incorrecto. Es mentira, es falso… Una falsedad más de esas muchas que últimamente han circulado aún más que antes (Y que fastidian, enojan… Porque no existe nada en el mundo que me enoje más que el que me quieran ver la cara de tonta)
Este vestuario por un lado, le pertenece a Michael Bush y a Dennis Tompkins. Eso podemos verlo en el propio vestuario, Michael se los obsequió e incluso contienen dedicatorias escritas en el vestuario a ellos muchos de esos vestuarios. Según Michael Bush explicó alguna vez, el objetivo era que se "basaran" en estos para hacer nuevos vestuarios…. Pero el motivo es independiente. La pertenencia es lo que importa.  Dennis Tompkins como Ustedes saben falleció, por lo que quien los estaba subastando era Michael Bush.
Afortunadamente y por el comunicado de Michael Bush que efectivamente ví el día de ayer en su Facebook, ya que lo tengo incluído en "mis amigos", él le estará regalando al Estate (Herencia, Herederos, Patrimonio) de Michael Jackson algunos de esos trajes. No todos… Algunos… ¿Cuáles? eso, no lo sé. Eso ni el Estate ni Michael Bush lo han aclarado. Pero se agradece, obviamente.  El día de ayer no lo publiqué precisamente porque yo estaba esperando una confirmación oficial del Estate de este hecho.  Y esa aquí está 🙂
.
.
Del vestuario que subasta Michael Bush pueden ver algunas fotografías aquí:
http://www.juliensauctions.com/exhibitions/2012/tompkins-and-bush-list.html
.
.
De las cosas de Neverland de las que Michael Jackson detuvo la subasta (Que si pertenecen al inventario del Estate, es decir a su Patrimonio, Herencia tal y como ellos lo han reportado en sus informes financieros y de estado a la Corte), y que están en una exhibición diferente, puedes ver algunas fotografías aquí:

http://www.juliensauctions.com/shop/index.php?l=product_detail&p=57
.
.
.
Recopilación de información y traducción al español  realizada por Gisela F., para tributomj.com Se autoriza la reproducción de esta entrada en otros sitios,siempre y cuando se agregue 1) la (s) fuente (s) original (es) de la información 2) El vínculo a esta entrada de este blog. Todas las fuentes.  EXCEPCIONES: No autorizamos que nuestro trabajo (Investigación, recopilación, traducción, etc.) se reproduzca en sitios dedicados a temas de teorías conspirativas y todas sus ramificaciones, o sitios dedicados a "la falsa muerte" DE NINGUNA MANERA AUTORIZAMOS SE NOS INVOLUCRE O RELACIONE CON ESOS SITIOS ENGAÑOSOS (Def.).
.
URL corta de esta entrada
.
.
.