Mensaje de la Herencia de Michael Jackson == Message From The Estate Of Michael Jackson
.
.
| | |
| --- | --- |
| Message From The Estate Of Michael Jackson | Mensaje de la Herencia de Michael Jackson |
| Hello: | Hola: |
| Michael Jackson was always giving items to friends, fans, sick children he visited and others he met throughout his life.  As a result, the Estate does not own all Michael Jackson costumes and/or other pieces. | Michael Jackson siempre estaba  dando objetos  a los amigos, fans, los niños enfermos que él visitaba y otros con los que él se reunió durante toda su vida. Como resultado, la Herencia  no es dueño de todos los trajes de Michael Jackson y/o de otras piezas. |
| Many people now possess different Michael Jackson items, and those items are the property of those individuals; the Estate cannot control what private citizens do with their own property. | Actualmente, muchas personas poseen diferentes artículos de Michael Jackson, y los artículos son propiedad de esos individuos particulares, la Herencia (Patrimonio, Herederos) no puede controlar lo que hacen los particulares con sus propios bienes o propiedades.. |
| But all of Michael's fans can rest assured that while the Estate may not have every single item ever worn by Michael as a result of his own generosity, the Estate does have more than enough costumes and fashion accessories along with all Michael's other possessions to enable the Estate to create a museum/exhibition for fans to enjoy and to honor Michael appropriately. | Pero todos los fans de Michael puede estar seguros de que, si bien la finca no puede tener cada artículo usado alguna vez por Michael como resultado de su propia generosidad, la Herencia tiene vestuarios suficientes y accesorios de moda, junto con otras posesiones de Michael para que la Herencia (Patrimonio, Herederos) cree un museo / exhibición  para que los fans disfruten  y honren a Michael adecuadamente. |
| Any fans who attended the Michael Jackson Fan Fest exhibit in Las Vegas last year saw that.  Everything that was part of that exhibition was and remains Estate property and there is more property that was not displayed. | Los admiradores que asistieron a la exhibición en el Michael Jackson Fan Fest en Las Vegas el año pasado vieron eso. Todo lo que fue parte de esa exposición era y sigue siendo propiedad del Patrimonio y hay más propiedades que no fueron mostradas. |
| Although it is premature to do so now, the Estate looks forward to sharing its future plans with then fans at the appropriate time. | Aunque es prematuro hacerlo en este momento, la Herencia (Patrimonio, Herederos) espera compartir sus planes futuros con los fans posteriormente,  en el momento oportuno. |
.
Fuente/Source
MJOnline
The Official Online Team of the Michael Jackson Estate™
Vía Correo electrónico.
.
.
***************
***************
.
Continuando con mi comentario de la entrada anterior… 
Me parece que vale la pena agregar a manera de recordatorio, lo que Michael Bush ha explicado, y explica en su libro también sobre que Michael Jackson tenía 2 o 3 juegos de vestuario para sus conciertos… Por si ganaba o perdía peso, o por si "las moscas"…. No sólo era uno. 
Así que aunque Michael Bush tenga uno de esos vestuarios… Y aunque se subasten, el Estate (Herencia, Herederos, Patrimonio) puede tener otro igual… 
Un ejemplo que se me ocurre en este momento, es el vestuario de HIStory World Tour (El de los famosos pantalones dorados). Como Ustedes vieron en fotografías, (Y con suerte, lo vieron en directo) uno de esos trajes dorados fue exhibido en el Michael Jackson Fan Fest…  Y uno está en la exhibición de Michael Bush… Es decir: No son el mismo, son dos trajes diferentes.
🙂
.
El de Tompkins and Bush (Exhibición en el Museo de la Moda en Chile)
.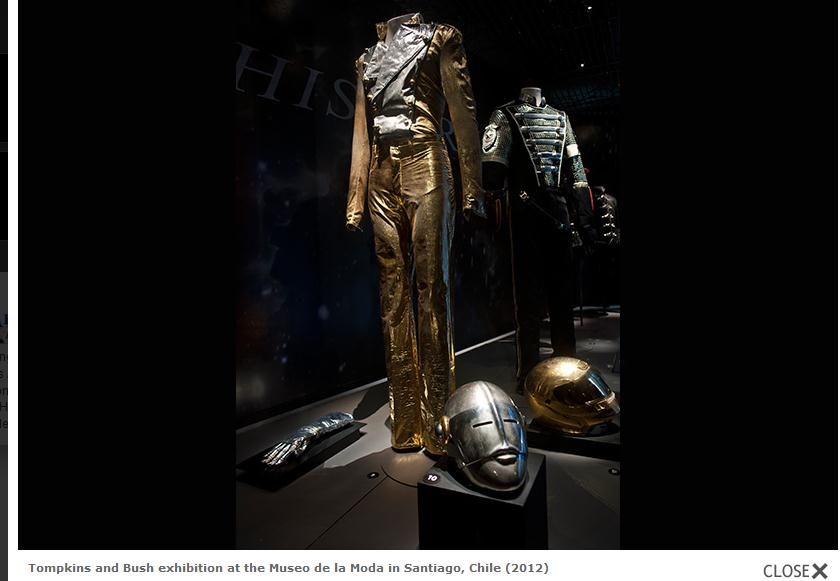 .
El del Michael Jackson Fan Fest (Propiedad de la Herencia)
.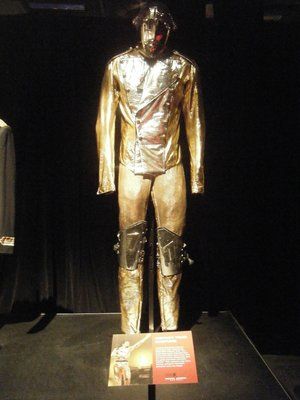 .
Son dos trajes diferentes del mismo vestuario. Como dije antes, este es un ejemplo nada más.
.
.
Recopilación de información y traducción al español  realizada por Gisela F., para tributomj.com Se autoriza la reproducción de esta entrada en otros sitios,siempre y cuando se agregue 1) la (s) fuente (s) original (es) de la información 2) El vínculo a esta entrada de este blog. Todas las fuentes.  EXCEPCIONES: No autorizamos que nuestro trabajo (Investigación, recopilación, traducción, etc.) se reproduzca en sitios dedicados a temas de teorías conspirativas y todas sus ramificaciones, o sitios dedicados a "la falsa muerte" DE NINGUNA MANERA AUTORIZAMOS SE NOS INVOLUCRE O RELACIONE CON ESOS SITIOS ENGAÑOSOS (Def.).
.
URL corta de esta entrada
.
.