Por favor voten por Michael == Please vote for Michael
–
Por favor voten por Michael
,
Si quieren como yo distraer la mente de tanta porquería…  Por favor les pido que voten por Michael en la siguiente votación:
.
Traducción de la nota:
.
.
| | |
| --- | --- |
| Vote: The Greatest Song Of The Last Decade Is… | Votación: La Canción Más Grande de la última década es… |
| Last month, we asked you to name a song released between the year 2000 and now- using the impact you feel made it on Pop culture (and not its sales) as the basis for your decision. | El mes pasado, les pedimos que nombraran una canción lanzada durante el año 2000 y ahora, usando el impacto se sientes dejó en la cultura pop (y no sus ventas), como base para su decisión. |
| Now, after collecting answers posted in TGJ's ever 'eventful' comment sections and answers submitted to us via Twitter and Facebook, we've compiled a list made up of the Top 20 most named songs. | Ahora, después de recoger respuestas publicadas en la sección de comentarios de TGJ y las respuestas que se nos presentaron a través de Twitter y Facebook nosotros  hemos recopilado una lista formada por el Top 20 de las canciones más nombradas. |
| Sure to surprise some, the poll you'll see below is now ready to accept votes and will close one month from now (August 23rd), before the winning song is announced. | Claro que para sorprender a algunos, la encuesta que  verán más adelante está ahora lista para aceptar los votos y se cerrará dentro de un mes (el 23 de agosto), antes de que se anuncie la canción ganadora. |
| Ready to play? | ¿Listo para jugar? |
| Get voting below! | ¡Vota abajo! |
–
Fuente y votar en:
.
.
INSTRUCCIONES
.
1) Marcar el círculo a la izquierda de "Michael Jackson: "You Rock My World"" dando un clic sobre él.
2) Dar clic en el botón "Vote"
3) Actualizar o recargar la página
4) Repetir los pasos anteriores, hasta que se nos canse la mano 🙂  (Es de esas votaciones en las que puedes hacerlo las veces que quieras.
.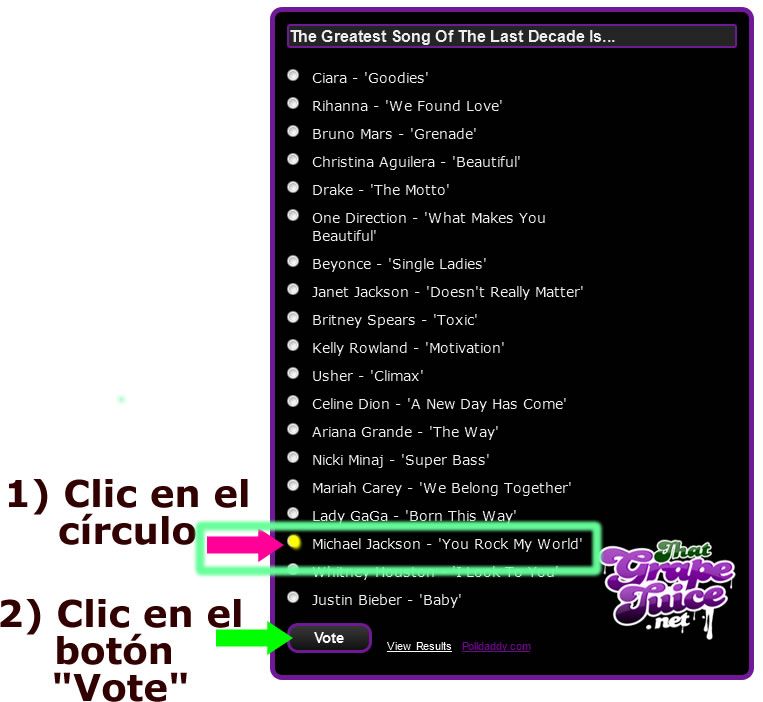 .
.
Lo malo: Como pueden ver la votación cerrará el 23 de agosto de 2013…  Son muchos días :-S  Pero si pueden hacerlo en esos ratitos libres, saben que su ayuda es importante siempre.
.
.
Hablando de importancia, en realidad no creo que esta encuesta sea exageradamente relevante.  Pero considerando estos momentos en los que seguramente los tabloides seguirán con sus porquerías (Y ni cómo pelear, si muchas de esas porquerías provienen de esa FARSA de juicio… Y mejor no sigo hablando del "juicio" o lo que es lo mismo: "Sin comentarios", únicamente por el respeto que le tengo a Michael y a los hijos de Michael), cualquier manifestación de apoyo a Michael se torna importante… Así que ¡Muchas gracias por su ayuda!
.
.
.
.
Recopilación de información y traducción al español  realizada por Gisela F., para tributomj.com Se autoriza la reproducción de esta entrada en otros sitios,siempre y cuando se agregue 1) la (s) fuente (s) original (es) de la información 2) El vínculo a esta entrada de este blog. Todas las fuentes.  EXCEPCIONES: No autorizamos que nuestro trabajo (Investigación, recopilación, traducción, etc.) se reproduzca en sitios dedicados a temas de teorías conspirativas y todas sus ramificaciones, o sitios dedicados a "la falsa muerte" DE NINGUNA MANERA AUTORIZAMOS SE NOS INVOLUCRE O RELACIONE CON ESOS SITIOS ENGAÑOSOS (Def.).
.
URL corta de esta entrada
–