Artículo de Forbes Referente a la venta de Neverland == Forbes Article Regarding Neverland Sale
.
.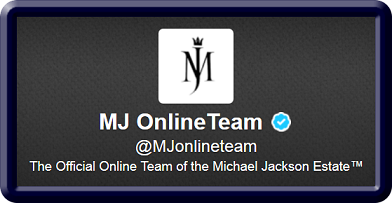 –
.
| | |
| --- | --- |
| Forbes Article Regarding Neverland Sale | Artículo de Forbes Referente a la venta de Neverland |
| Hi: | Hola: |
| Last night, we sent you a message from the Estate regarding Colony Capital's decision to sell Neverland. Many of you have inquired about the Estate purchasing Neverland. | Ayer por la noche, les enviamos un mensaje de la Herencia (Caudal Sucesorio, Sucesión, Herencia, Herederos)  respecto a la decisión de Colony Capital de vender Neverland. Muchos de ustedes han preguntado si la Herencia podría comprar  Neverland. |
| As you know, the Estate does not disclose the details of its business dealings but last night's statement to the fans (not included in the comment to press) states "the Estate did explore a number of potential options for Neverland with Colony" but for the reasons stated none of those options were feasible. | Como ustedes saben, la Herencia no da a conocer los detalles de sus relaciones de negocios, pero la declaración de anoche a los fans (no incluidos en el comentario a la prensa) afirma que "la Herencia exploró un número de posibles opciones sobre Neverland con Colony" pero por las razones expuestas ninguna de esas opciones eran factibles. |
| This sentence was included specifically for your benefit to let you know that the Estate tried to find a way to keep the sale from happening but for a variety of reasons, it was not possible. | Esta frase se incluyó específicamente para Ustedes, con la finalidad de hacerles saber que la Herencia trató de encontrar una manera de que la venta no ocurriera pero por una variedad de razones, esto  no fue posible. |
| Zack O'Malley Greenburg broke the news in Forbes shortly after we sent you the Estate's statement | Zack O'Malley Greenburg les dio la noticia en Forbes poco después de que nosotros les enviamos a Ustedes la  declaración de la Herencia. |
| forbes.com |  forbes.com |
| He offers some further insight you might find helpful in understanding the situation. | Él ofrece algunas ideas adicionales que pueden resultar útiles en la comprensión de la situación. |
| Like you, the Estate is sad and disappointed by Colony's decision. Michael's legacy is in his music, in his humanitarian efforts, and in his spirit. The Estate hopes that whomever the new owners may turn out to be, that they will continue to appreciate the property not only for its beauty but for its historical and cultural legacy as well. | Al igual que ustedes, la Sucesión está triste y decepcionada por la decisión de Colony. El legado de Michael está en su música, en sus esfuerzos humanitarios, y en su espíritu. La Sucesión espera que quien sea que los nuevos propietarios puedan llegar a ser, que continuarán apreciando la propiedad no sólo por su belleza sino por su legado histórico y cultural. |
.
Fuente/Source
MJOnline
The Official Online Team of The Michael Jackson Estate™
Vía correo electrónico
.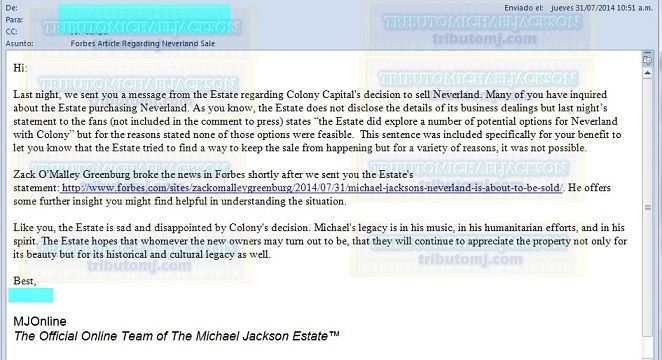 .
.
.
EL ARTÍCULO EN FORBES MENCIONADO EN EL COMUNICADO.
.
Este es un artículo que de cualquier modo iba a traducir y a agregar en este blog, ya que contiene información que quizás ayude a comprender un poco más la situación de Neverland, en cuanto a finanzas, en cuanto a usos de suelo permitidos… cosas así, pero debido a que está mencionado en el mensaje del MJ Online, decidí agregarlo a continuación:
.
.
.
| | |
| --- | --- |
| Michael Jackson's Neverland Is About To Be Sold | Neverland de Michael Jackson está a punto de ser vendido |
| Zack O'Malley Greenburg Forbes Staff | Zack O'Malley Greenburg Personal de Forbes |
| The Beat Report: I cover the business of music & entertainment. | The Beat Report: Cubro el negocio de la música y el entretenimiento. |
| MEDIA & ENTERTAINMENT 7/31/2014 @ 3:13AM | MEDIOS Y ENTRETENIMIENTO 31/07/2014 @ 03:13 AM |
| Though Michael Jackson moved out of Neverland years before his untimely passing, the 2,700-acre property remains indelibly associated with the King of Pop to this day. Soon, however, the connection will be only in thought, not deed: Neverland is set to be sold. | Aunque Michael Jackson se mudó de Neverland años antes de su prematura muerte, la propiedad de 2.700 hectáreas sigue estando indeleblemente asociada con el Rey del Pop en la actualidad. Pronto, sin embargo, la conexión estará sólo en el pensamiento, no en escrituras: Neverland está listo para ser vendido. |
| According to sources familiar with the matter, billionaire Tom Barrack's Colony Capital is preparing to put the Los Olivos, Calif. property on the market. The firm became Neverland's managing partner after Barrack struck a deal with Jackson in late 2007 to take over the $23 million note held by private equity fund Fortress. | Según fuentes cercanas a la situación, el multimillonario Tom Barack de Colony Capital está preparando el poner la propiedad de Los Olivos, California en el mercado. La empresa se convirtió en el socio gerente de Neverland después de que Barack llegara a un acuerdo con Jackson a finales de 2007 para hacerse cargo de la nota de deuda de 23 millones dólares en manos del fondo de capital privado Fortress. |
| "We are frustrated, bitterly disappointed and saddened that it has come to this," said a representative for Jackson's estate in an electronic message to FORBES. "Sadly, Michael lost control of Neverland during his life as a result of advice from a former manager." | "Nos sentimos frustrados, muy decepcionados y entristecidos de que se haya llegado a esto", dijo un representante de la Herencia de Jackson en un mensaje electrónico a FORBES. "Lamentablemente, Michael perdió el control de Neverland durante su vida como resultado de los consejos de un ex gerente." |
| | NOTA MÍA: A pesar de que yo siempre me refiero a ese tipo como "el innombrable", hoy llamemos a ese IDIOTA por su nombre: el Pseudo "Dr."(Nadie sabe en qué tiene su supuesto doctorado) Tohme Tohme. Fin de mi nota. |
| Representatives for Colony Capital could not immediately be reached for comment. | Los representantes de Colony Capital no pudieron ser contactados inmediatamente para hacer comentarios. |
| As I reported in Michael Jackson, Inc: The Rise, Fall and Rebirth of a Billion-Dollar  Empire , the agreement between Jackson and Colony was a complex one. Barrack himself said he only took on the note as a favor to Jackson (in an interview for the book, he recalled his words to the singer: "Don't have me do this … unless you're really interested in building a program going forward to create some revenue for yourself.") | Como informé en Michael Jackson, Inc: el auge, caída y renacimiento de un Imperio del Billón de Dólares, el acuerdo entre Jackson y Colony era complejo. El propio Barack dijo que él sólo compró esa deuda  como un favor a Jackson (en una entrevista para el libro, recordó sus palabras al cantante: "Yo no tengo a hacer esto … a menos que tú estés realmente interesado en la construcción de un programa, puesto en marcha para crear algunos ingresos por tí mismo ") |
| The agreement, which took effect in early 2008, called for Colony to manage Neverland as a sort of joint venture with Jackson. For every dollar the company invested in the property, its equity would increase. This meant that while Jackson—and, later, his estate—retained a stake in the property, it decreased on paper as time went on. | El acuerdo, que entró en vigor a principios de 2008, hizo que Colony  gestionara Neverland como una especie de empresa conjunta con Jackson. Por cada dólar que la empresa invirtiera en la propiedad, su capital se incrementaría. Esto significa que mientras Jackson-y, más tarde, su Herencia -retuvo una participación en la propiedad, esta fue disminuyendo en los papeles conforme el paso del tiempo. |
| Over the past six years, Colony has continued to fund the upkeep of Neverland. That cost, if it's anything like it was in Jackson's day, is likely in the neighborhood of $5 million per year. Add in the $23 million note, and back-of-the-envelope math suggests the firm may have invested more than $50 million in the property to date. It also retains the right to sell the property at will. | Durante los últimos seis años, Colony ha continuado financiando el mantenimiento de Neverland. Ese costo, si es algo como lo que fue en los días de Jackson, es probable que en se avecine a los  $5 millones de dólares por año. Añadidos a la deuda  de $23 millones, y haciendo un recuento matemático, esto sugiere que la firma pudo haber invertido más de $ 50 millones de dólares en la propiedad hasta la fecha. También en dicho acuerdo, se reserva el derecho de vender la propiedad a voluntad. |
| Still, many options were explored over the years. Toward the end of his life, Jackson himself is said to have been intrigued by the idea of turning Neverland into a school for the performing arts; after his death, many have suggested that the property be turned into an attraction like Elvis Presley's Graceland. | Aun así, muchas opciones fueron exploradas en los últimos años. Hacia el final de su vida, el mismo Jackson se dice que se había intrigado por la idea de convertir Neverland en una escuela para las artes escénicas; después de su muerte, muchos han sugerido que la propiedad se convirtiera en una atracción como Graceland de Elvis Presley. |
| But as anyone who's been to Neverland (this writer included) can tell you, Los Olivos isn't exactly Memphis. The area is nowhere near an interstate, and its narrow mountain roads aren't conducive to accommodating hundreds of thousands of visitors a year. | Pero como cualquiera que haya estado en Neverland (este escritor incluido) le puede decir que Los Olivos no es exactamente Memphis. La zona está muy lejos de una zona urbana y sus estrechas carreteras de montaña no son propicias para acomodar a cientos de miles de visitantes al año. |
| "The Estate explored numerous options, including a purchase," continued the aforementioned representative's statement. "But financial, land use and zoning restrictions have made all of the proposed options prohibitive given our duty as Executors to be fiscally responsible in protecting and growing the assets of the Estate for Michael's children." | "La Herencia exploró varias opciones, incluyendo una compra", continuó la declaración antes mencionada de los representantes. "Pero  el uso de suelo y restricciones de zonificación han hecho todas las opciones propuestas prohibitivas, dado nuestro deber como albaceas de ser fiscalmente responsables de la protección y el crecimiento de los activos de la Herencia de los hijos de Michael." |
| Indeed, Jackson's estate has pulled in more than three quarters of a billion dollars in a little over five years since his death. But that's before taxes and expenses, not to mention the specter of a $702 million IRS bill that the estate is currently appealing. | De hecho, el patrimonio de Jackson ha llevado a más de tres cuartas partes de los mil millones de dólares en poco más de cinco años desde su muerte. Pero eso es antes de impuestos y de gastos, sin mencionar el espectro de un espectro de $702 millones del IRS que la Herencia está apelando. |
| Buying back Colony's share of Neverland—not to mention footing a multimillion-dollar annual upkeep bill for a property that does not generate income—would seem to be an imprudent financial choice. | El volver a comprar la parte de Colony de Neverland, por no mencionar el pagar una factura de mantenimiento anual de varios millones de dólares por una propiedad que no genera ingresos parece ser una opción financiera imprudente. |
| And so, Neverland may soon have a new owner on paper. But any buyer will have to understand the property will always be the King of Pop's realm in the minds of millions. | Y así, Neverland pronto podría tener un nuevo propietario en el papel. Pero cualquier comprador tendrá que entender la propiedad siempre será el Reino del Rey del Pop en la mente de millones de personas. |
| For more about the business of the King of Pop, check out my new book Michael Jackson, Inc . You can follow me on Twitter  & Facebook | Para más información sobre el negocio del Rey del Pop, echa un vistazo a mi nuevo libro Michael Jackson, Inc. Puedes seguirme en Twitter & Facebook |
.
Fuente/Source
.
.
Adicional a esta nota en Forbes, yo les pediría leer los comentarios que yo agregué en la entrada anterior sobre este tema, ya que ahí agregué más fuentes, para intentar explicar mejor la situación de Neverland desde antes de que Michael falleciera:
.
.
Sólo puedo agregar, a manera de opinión personal. Y reitero lo de OPINIÓN PERSONAL, que:
Como comprendo la situación de ese acuerdo firmado por Michael con Colony para crear esa "sociedad" desventajosa para el por el mal consejo de Tohme T….  Aunque también entiendo la difícil situación financiera por la que Michael estaba pasando después del juicio de 2005. Conocimos incluso la historia de cuando Neverland casi fue a remate por falta de pago de Hipoteca y que precisamente este mal acuerdo, en ese momento fue una solución a ese problema…
Comprendo la situación difícil que esta propiedad tiene actualmente por el uso de suelo (Por decirlo de alguna manera, en qué se puede usar el suelo de esa zona), por la zonificación, entiendo lo de que los vecinos se negaron a que se convirtiera en un lugar turístico conmemorativo…
Entiendo que por estos motivos su explotación económica es muy complicada, y que tendrían que ponerse a sembrar hortalizas, o frutas u olivos (Si así se llama el lugar, yo supongo que siembran o sembraban olivos allí ¿No?) …  o a quizás a criar y vender ganado, yo Gisela tampoco la compraría.  No es rentable tener y mantener esa propiedad. Y tampoco el convertirse en rancheros, es el "giro" de las empresas de Michael (Hoy sus Herederos)…
A muchos les gustan las teorías conspirativas… A mí no. Pero también puedo imaginarlas…
Y si debo "crear" una, debo decir que bien puedo imaginarme a algunos de los vecinos de Michael presionando políticamente, aportando incluso dinero (Quizás disfrazado de "donativos" para campañas políticas) al idiota de Sneddon para FABRICAR cargos, para hacer todo lo posible para que Michael se fuera de ahí. Esto considerando que el lugar es además una zona principalmente "conservadora"…  Así que no dudo que haya alguno que otro idiota racista haciéndolo.
Lo que explicaría además esa estúpida negativa, que bien podría traer también beneficios económicos para el lugar, por parte de los vecinos para crearlo una zona turística conmemorativa…
¡En fin! Como dije en la entrada anterior: Es muy, muy triste, pero decir que no era algo esperado y que no es algo lógico, racional para el bienestar económico de los hijos de Michael, es mentir.
.
.
.
.
Recopilación de información y traducción al español  realizada por Gisela F., para tributomj.com Se autoriza la reproducción de esta entrada en otros sitios,siempre y cuando se agregue 1) la (s) fuente (s) original (es) de la información 2) El vínculo a esta entrada de este blog. Todas las fuentes.  EXCEPCIONES: No autorizamos que nuestro trabajo (Investigación, recopilación, traducción, etc.) se reproduzca en sitios dedicados a temas de teorías conspirativas y todas sus ramificaciones, o sitios dedicados a "la falsa muerte" DE NINGUNA MANERA AUTORIZAMOS SE NOS INVOLUCRE O RELACIONE CON ESOS SITIOS ENGAÑOSOS (Def.) . 
.
.
.