,
.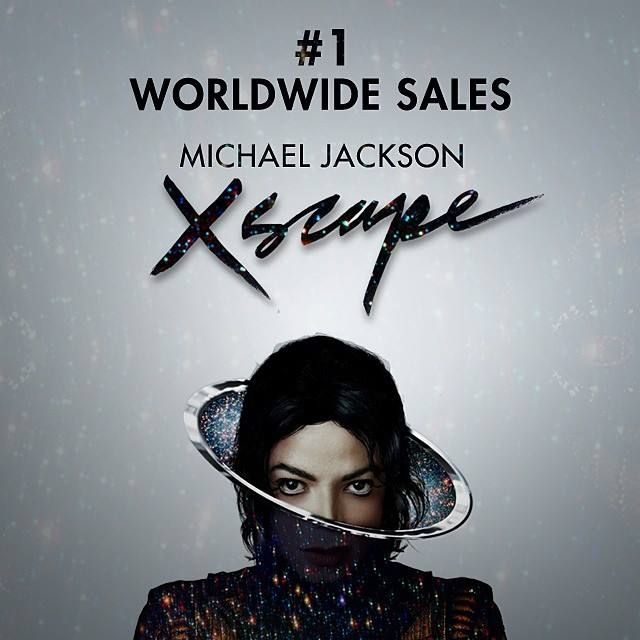 .
.
| | |
| --- | --- |
| Message From The Estate Of Michael Jackson | Mensaje de la Herencia de Michael Jackson |
| Hello MJ Fam: | Hola MJ Fam : |
| It has been a whirlwind few weeks and we wanted to share some more good news with you. | Ha sido un torbellino de unas semanas y queremos compartir algunas buenas noticias con ustedes. |
| In the six days since the video of the virtual MJ dancing to "Slave To The Rhythm" was uploaded to VEVO, it has been viewed more than 10 million times and that number is continuing to grow steadily. | En los seis días desde que el video del MJ virtual, bailando "Slave To The Rhythm", fue subido a VEVO , ha sido visto más de 10 millones de veces y ese número sigue creciendo de manera constante. |
| The performance gave the Billboard Music Awards its highest ratings in 13 years, and the response in the general public has been overwhelmingly positive – if you look at the VEVO post, you can see that the likes outweigh the dislikes 10 to 1!!!! This tells us it is a major success w/the general public which, after all, is what we all want – for the rest of the world to see and love Michael the way that we all do.  The efforts of the last few weeks, and especially, the performance on the Billboard Awards is working! | La actuación dio a los Premios Billboard de la Música el rating más alto en 13 años, y la respuesta en el público en general ha sido muy positiva – si nos fijamos en el puesto de VEVO, se puede ver que los me gusta sobre pasan a los "no me gusta ¡En 10 a 1! Esto nos dice que es un gran éxito con el público en general que, después de todo, es lo que todos queremos – para el resto del mundo vea y ame a Michael de la manera que todos nosotros lo hacemos. Los esfuerzos de las últimas semanas, y sobre todo, la actuación en los Premios Billboard ¡Está funcionando! |
| While expectations might have been built up due to Alki David's frivolous lawsuit and inaccurate comments (he was not involved with the production at all), and ABC's efforts to promote the show, the Estate has tried hard to keep expectations in check. | Mientras que las expectativas podrían haberse acumulado debido a la demanda frívola de Alki David y sus comentarios inexactos (él no estuvo involucrado con la producción en absoluto), y los esfuerzos de ABC por  promover el programa, la Sucesión se ha esforzado por mantener las expectativas bajo control. |
| The Estate is proud of what has been achieved with the promotional activations over the last few weeks but recognizes, along with all of you, that no one/nothing can replace Michael. Fans all over the world are speaking out with their positive comments online and with their support for Xscape and now the general public is taking notice and joining in. | La Sucesión está orgullosa de lo que se ha logrado con las activaciones promocionales en las últimas semanas, pero reconoce, junto con todos ustedes, que nadie o  nada puede sustituir a Michael. Fans de todo el mundo están hablando con sus comentarios positivos en línea y con su apoyo a Xscape y ahora el público en general se está dando cuenta y se unen a esto. |
| The general public, and more importantly the media, often takes cues from the fan community. The support of the fan community publicly will only augment the support of the general public for Michael Jackson. | El público en general, y lo más importante los medios de comunicación, a menudo toman señales de la comunidad de fans. El apoyo de la comunidad de fans públicamente sólo aumentará el apoyo del público en general por Michael Jackson |
| The MJ fans have much to be proud of – HITS Magazine put Xscape in its number one spot based on it's tallies for US sales, the record is the #1 selling album worldwide for its first week and the #1 streamed record on Spotify for the first week of release! The illusion has put Michael back in the forefront of the entertainment world and helped promote Xscape. | Los fans de MJ tienen mucho de qué enorgullecerse – HITS Magazine puso a Xscape en su puesto número uno basado en el recuento de ventas en Estados Unidos, la grabación es el álbum No. 1 más vendido en todo el mundo en su primera semana y el lugar # 1 de reproducción en Spotify ¡en la primera semana de lanzamiento! La ilusión ha puesto a Michael de vuelta en la vanguardia del mundo del espectáculo y ha ayudado a promover Xscape . |
| The Estate hopes that the fans are as thrilled as they are to see so much positive press about Michael from every corner of the globe. It is heartwarming to see that the overwhelming reaction from the general public to the new music and to Michael. | La Sucesión espera que los fans estén tan emocionados como ellos están de ver tanta prensa positiva sobre Michael en todos los rincones del globo. Es reconfortante ver la reacción abrumadora del público en general a la nueva música y a Michael. |
| As we mentioned in one of our emails last week – we're just getting started. Keep watching for what's next. | Como mencionamos en uno de nuestros mensajes de correo electrónico la semana pasada – nosotros a penas estamos empezando. Manténgase atentos a lo que se viene. |
.
MJOnline
The Official Online Team of The Michael Jackson Estate™
.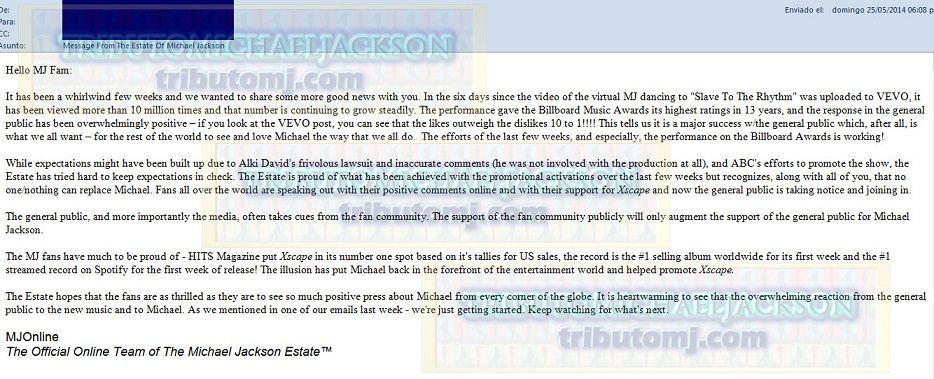 .
*************************************************
.
Yo agrego: Como un muy buen ejemplo, pueden ver a este niño, que fue el ganador del concurso de baile, durante la celebración de Xscape en por un Club de Fans en Japón  🙂
.
.
.
Recopilación de información y traducción al español  realizada por Gisela F., para tributomj.com Se autoriza la reproducción de esta entrada en otros sitios,siempre y cuando se agregue 1) la (s) fuente (s) original (es) de la información 2) El vínculo a esta entrada de este blog. Todas las fuentes.  EXCEPCIONES: No autorizamos que nuestro trabajo (Investigación, recopilación, traducción, etc.) se reproduzca en sitios dedicados a temas de teorías conspirativas y todas sus ramificaciones, o sitios dedicados a "la falsa muerte" DE NINGUNA MANERA AUTORIZAMOS SE NOS INVOLUCRE O RELACIONE CON ESOS SITIOS ENGAÑOSOS (Def.) . 
.
URL corta de esta entrada
.