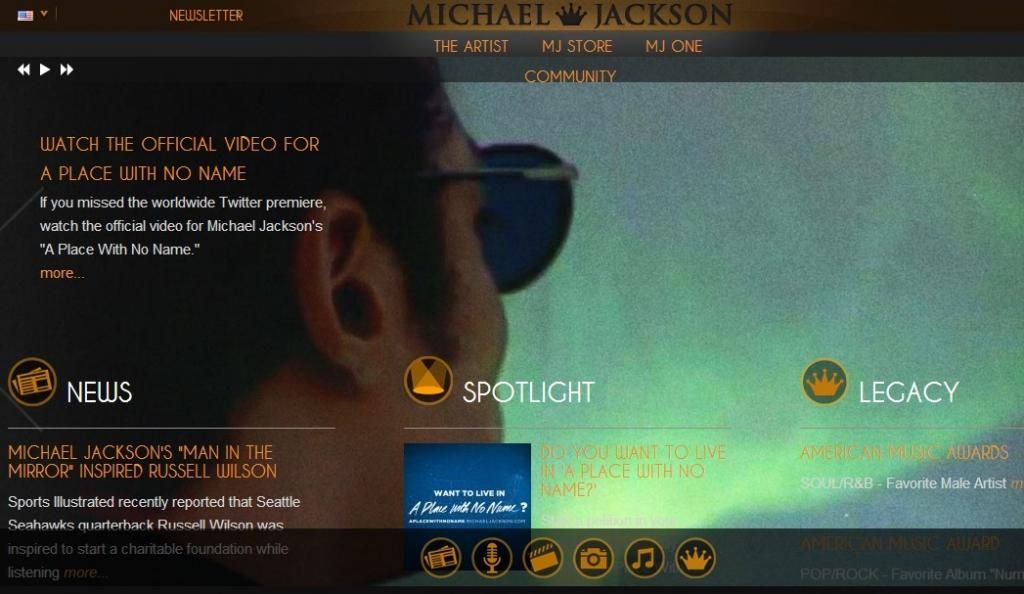 .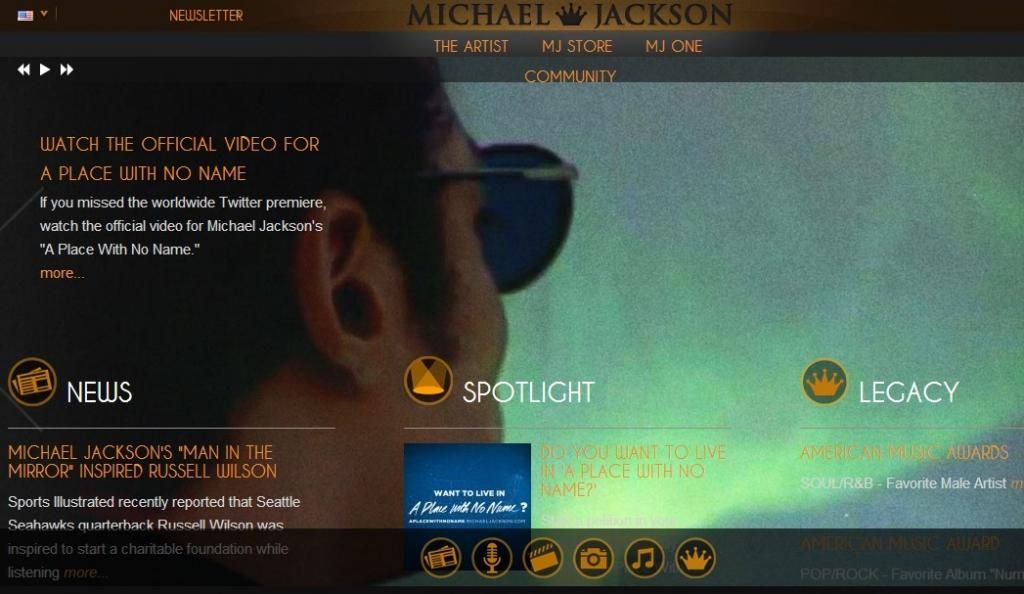 .
| | |
| --- | --- |
| Updates To MichaelJackson.com | Cambios en el sitio MichaelJackson.com |
| Hi there! | ¡Hola! |
| We are happy to share with you that there are upgrades to the MichaelJackson.com site coming soon that we think will make for an even better and smoother experience. The Estate and Sony Music have taken fan feedback into consideration and are excited to announce the following changes will occur in the next few weeks: | Estamos felices de compartir con ustedes que próximamente habrá mejoras en el sitio MichaelJackson.com que creemos que van a lograr una experiencia aún mejor y más sencilla. El Estate y Sony Music han tomado en consideración las opiniones de los fans y estamos emocionados de anunciar los siguientes cambios que se producirán en las próximas semanas: |
| A faster-loading site across all devices | Un sitio de carga más rápida en todos los dispositivos |
| The developers have been working to ensure that the site remains robust while also allowing for the best experience for all visitors, regardless of whether they are using a computer or mobile device. | Los desarrolladores han estado trabajando para asegurar que el sitio siga siendo robusto, además de facilitar una mejor experiencia para todos los visitantes, independientemente de si están utilizando un ordenador o un dispositivo móvil. |
| New, sleeker design | Nuevo diseño, más elegante |
| The new site will feature brighter accent and background colors to improve the graphic display as well as to make the text easier to read. | El nuevo sitio contará con un brillante acento y colores de fondo para mejorar la visualización gráfica, así como para hacer el texto más fácil de leer. |
| Facebook comments integration | Integración de Comentarios con Facebook |
| Fans have previously been able to log into the website using their Facebook account, but now that functionality will be expanded to make integration throughout the site more seamless and allow easier participation in fan-to-fan communication, comments, and discussion threads. It will also integrate discussions with the rest of the content on the site more organically, rather than pushing them off to a separate forum section | Los admiradores previamente han sido capaces de iniciar sesión en el sitio web utilizando su cuenta de Facebook, pero ahora esta  funcionalidad se ampliará para hacer la integración con el sitio más transparente y permita que sea más fácil la participación en la comunicación-de admirador a admirador en los comentarios, y foros de discusión. Esto también integrará las conversaciones con el resto del contenido del sitio de manera más orgánica, en lugar de obligar a ir a una sección del foro por separado. |
| As a result, the separate forum section will be eliminated from the website, so it is important that if you communicate with anyone solely through the website forums, you should reach out and exchange other contact information with them in order to stay in touch. | Como resultado, la separación de la sección del foro será eliminada del sitio web, por lo que es importante que si usted desea  comunicarse con alguien en específico a través de los foros del sitio web, usted deberá contactarlo e intercambiar otra información de contacto con ellos con el fin de mantenerse en contacto. |
| Fan art that has been previously submitted will still be available in the fan galleries, and users will no longer have to create an account to participate in discussions or submit original fan art. | El arte de fans (Fan Art) que previamente se ha agregado seguirá estando disponible en las galerías de fans, y los usuarios ya no tendrán que crear una cuenta para participar en los debates o ingresar fan art original. |
| The new site will be a significant improvement to the user experience on MichaelJackson.com, and we look forward to seeing you on the site! | El nuevo sitio será una mejora significativa en la experiencia del usuario en MichaelJackson.com, y ¡Esperamos contar con su presencia en el sitio! |
.
MJOnline
The Official Online Team of The Michael Jackson Estate™
.
Recibido vía correo electrónico
.
.
.
Recopilación de información y traducción al español  realizada por Gisela F., para tributomj.com Se autoriza la reproducción de esta entrada en otros sitios,siempre y cuando se agregue 1) la (s) fuente (s) original (es) de la información 2) El vínculo a esta entrada de este blog. Todas las fuentes.  EXCEPCIONES: No autorizamos que nuestro trabajo (Investigación, recopilación, traducción, etc.) se reproduzca en sitios dedicados a temas de teorías conspirativas y todas sus ramificaciones, o sitios dedicados a "la falsa muerte" DE NINGUNA MANERA AUTORIZAMOS SE NOS INVOLUCRE O RELACIONE CON ESOS SITIOS ENGAÑOSOS (Def.) . 
.
.
.