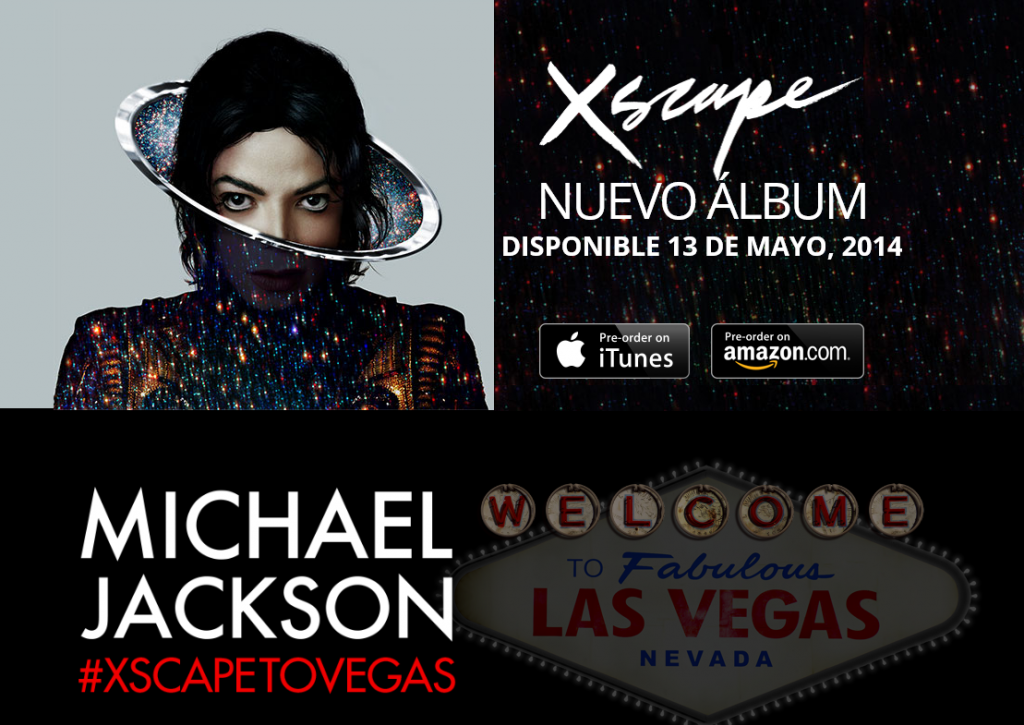 .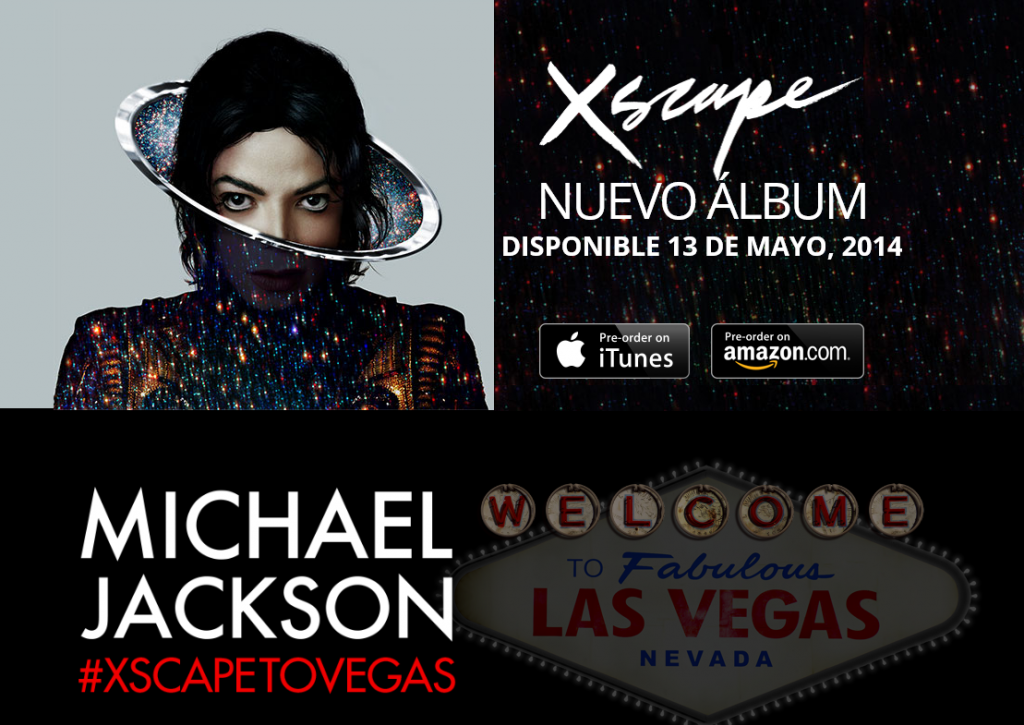 .
.
| | |
| --- | --- |
| Xscape To Vegas | Xscape a las Vegas |
| miércoles 23/04/2014 02:51 p.m. | miércoles 23/04/2014 14:51 |
| Hello: | Hola: |
| The Estate of Michael Jackson and Sony Music are very excited to announce the launch of a contest today providing two lucky winners (and a guest) the opportunity for the ultimate Michael Jackson weekend in Las Vegas. | Los Sucesores de Michael Jackson y Sony Music están muy contentos de anunciar el lanzamiento de un concurso de hoy proporcionando a dos afortunados ganadores (y un invitado), la oportunidad para el fin de semana esencial de Michael Jackson en Las Vegas. |
| The contest is open to fans in many countries worldwide, but not all. Due to local legal restrictions, residents in certain territories are not eligible to participate in the sweepstakes. However, all fans worldwide are welcome and encouraged to create a video and participate in the contest for fun, even if they are not a resident of a country in which they are eligible to win. | El concurso está abierto a los admiradores en muchos países del mundo, pero no todos. Debido a restricciones legales locales, los residentes en algunos territorios no son elegibles para participar en el sorteo. Sin embargo, todos los fans de todo el mundo son bienvenidos y animados a crear un video y participar en el concurso por diversión, incluso si no es residente de un país que sea elegible para ganar. |
| Please visit http://vegas.michaeljackson.com for contest details and eligibility. | Por favor, visita http://vegas.michaeljackson.com para más detalles del concurso y criterios de elegibilidad. |
| Good luck! | ¡Buena suerte! |
.
Fuente/Source
MJOnline
The Official Online Team of The Michael Jackson Estate™
Vía correo electrónico
.
.
***********************
.
Esta información sobre el concurso es la misma que yo les compartí en Facebook AQUI, y como ahí mencioné, es importante leer las
Bases y reglas oficiales que Ustedes encontrarán en la página http://vegas.michaeljackson.com/#spanish  (En la que como pueden ver es posible elegir el idioma español) .
En el caso de México los pueden leer aquí:
http://www.michaeljackson.com/us/xscape-terms-mexico
.
Recopilación de información y traducción al español  realizada por Gisela F., para tributomj.com Se autoriza la reproducción de esta entrada en otros sitios,siempre y cuando se agregue 1) la (s) fuente (s) original (es) de la información 2) El vínculo a esta entrada de este blog. Todas las fuentes.  EXCEPCIONES: No autorizamos que nuestro trabajo (Investigación, recopilación, traducción, etc.) se reproduzca en sitios dedicados a temas de teorías conspirativas y todas sus ramificaciones, o sitios dedicados a "la falsa muerte" DE NINGUNA MANERA AUTORIZAMOS SE NOS INVOLUCRE O RELACIONE CON ESOS SITIOS ENGAÑOSOS (Def.).
.
URL corta de esta entrada
.
.