.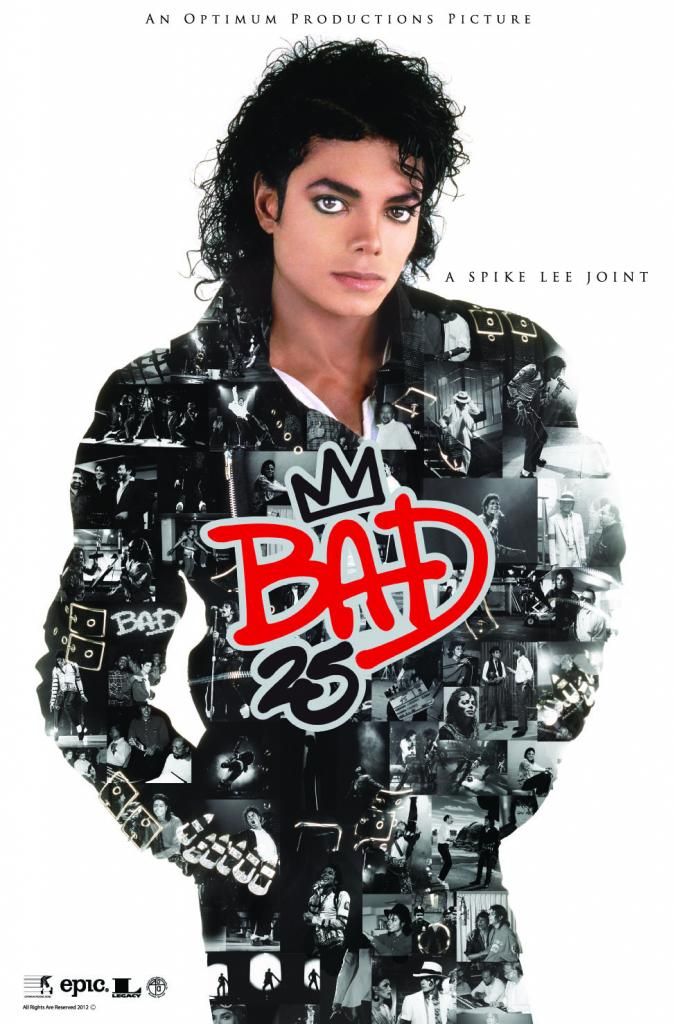 .
.
| | |
| --- | --- |
| Bad25 Documentary | Bad25 Documental |
| For fans asking about the availability of the Bad25 documentary on DVD or Blu-ray – | Para los fans que están preguntando sobre la disponibilidad del documental Bad25 en DVD o Blu-Ray |
| Vhile there are no plans for a general retail release, the Estate did want to ensure that all fans had the opportunity to see the full-length theatrical version that debuted at the Venice Film Festival. | Si bien NO hay planes de liberar una versión comercial para el público en general, el Estate quería asegurarse de que todos los fans tuvieran la oportunidad de ver la versión completa cinematográfica que debutó en el Festival de Cine de Venecia. |
| To accomplish this, the Estate decided to make the physical DVD and Blu-ray of the full-length version available for purchase online for fans at MichaelJackson.com. | Para lograr esto, el Estate decidió hacer el DVD y Blu-Ray físico de la versión completa y está disponible para su compra en línea, para los admiradores en MichaelJackson.com. |
.
Fuente/Source
MJOnline
The Official Online Team of The Michael Jackson Estate™
Vía correo electrónico.
.
En resumen: NO van a vender el documental en tiendas…  Pero podemos comprarlo en la tienda del sitio oficial dando clic aquí michaeljackson.com
.
.
Michael Jackson Bad 25 Trailer Preview – The View
.
.
.
.
******************
.
.
.
.
.
| | |
| --- | --- |
| BAD 25 Documentary | Documental BAD 25 |
| BAD 25 Documentary (DVD) Pre-Order- Ships on or before July 2, 2013 $190.46 MXN | Documental BAD 25 (DVD) Pre-Ordenar – Envíos  en o antes del 02 de julio 2013 $190.46 MXN |
| BAD 25 Documentary (Blu-ray) Pre-Order – Ships on or before July 2, 2013 $317.61 MXN | Documental BAD 25 (Blu-ray) Pre-Ordenar- Envíos en o antes del 02 de julio 2013 $317.61 MXN |
| Twenty-five years after Michael Jackson's visionary Bad album and tour left an indelible mark on pop culture, BAD25 takes you back inside the recording sessions, film shoots and sold-out stadiums for an intimate look at the King of Pop's creative genius. | Veinticinco años después del visionario álbum BAD de Michael Jackson y su gira, dejó una marca indeleble en la cultura pop, BAD25 te lleva dentro de las sesiones de grabación, sesiones de filmación y estadios con entradas agotadas para una mirada íntima al genio creativo del Rey del Pop. |
| Poignant and candid, Spike Lee directed a documentary that goes beyond paying homage to the record-setting album featuring such iconic songs as "Bad" and "Man In the Mirror." | De manera conmovedora y sincera, Spike Lee dirigió un documental que va más allá de rendir homenaje al álbum fijador de récords con canciones tan emblemáticas como "Bad" y "Man in the Mirror". |
| Using never-seen footage and candid interviews with subjects ranging from Martin Scorsese to Kanye West, Lee chronicles what became not only a watershed moment in Michael Jackson's growth as an artist but in popular music as well. | Utilizando metraje nunca antes visto y entrevistas sinceras con personalidades que van desde Martin Scorsese a Kanye West, Lee narra lo que se convirtió no sólo en un momento decisivo en el crecimiento de Michael Jackson como artista, sino en la música popular también. |
| The New York Times called BAD25 "filled with oh-wow moments," while Time lauded the film as "an intimate view of a performer at his peak in the intense splendor of creativity." | El New York Times se refirió al documental BAD25 como "lleno de momentos 'oh-guau'", mientras que Time elogió el filme como "una visión íntima de un artista en su mejor momento en el intenso resplandor de la creatividad." |
.
.
Chapters: (Capítulos)
BAD Beginnings // Inicios de BAD
I Just Can't Stop Loving You
The Album Recording Process
The Way You Make Me Feel
Speed Demon
Liberian Girl
Just Good Friends
Another Part Of Me
Dirty Diana
Smooth Criminal
Leave Me Alone
BAD World Tour
Man In The Mirror
Man In The Mirror – Live Performance (BAD World Tour- Wembley Stadium, July 16, 1988)  // Presentación en vivo en el BAD World Tour, Estadio Wembley, el 16 de Julio de 1988
Credits – Créditos
.
.
Fuente/Source
.
.
.
.
Recopilación de información y traducción al español  realizada por Gisela F., para tributomj.com Se autoriza la reproducción de esta entrada en otros sitios,siempre y cuando se agregue 1) la (s) fuente (s) original (es) de la información 2) El vínculo a esta entrada de este blog. Todas las fuentes.  EXCEPCIONES: No autorizamos que nuestro trabajo (Investigación, recopilación, traducción, etc.) se reproduzca en sitios dedicados a temas de teorías conspirativas y todas sus ramificaciones, o sitios dedicados a "la falsa muerte" DE NINGUNA MANERA AUTORIZAMOS SE NOS INVOLUCRE O RELACIONE CON ESOS SITIOS ENGAÑOSOS (Def.).
.
URL corta de esta entrada